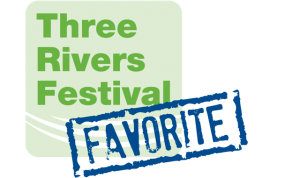 Each day during Three Rivers Festival, there are activities for your family to enjoy. One of our favorite summer traditions is to visit the Fort Wayne Museum of Art's Chalk Walk during the festival. This year, the Chalk Walk will be held on July 14th and 15th. The entire event is free to attend and depending on when you go, you'll see various stages of art. Over 22,000 people witnessed artists turn Main Street into a sidewalk gallery using only pastels last year. Artists choose their own subjects or get inspiration from local businesses that sponsor the work.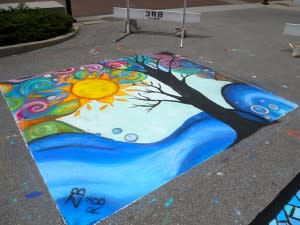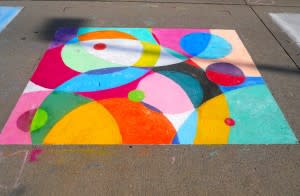 As a family with young children, the squares featuring the latest animated films or the classic characters always get a lot of attention. However, it's the artwork featuring local landmarks or favorite teams that get the attention of my husband and I.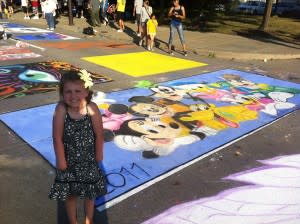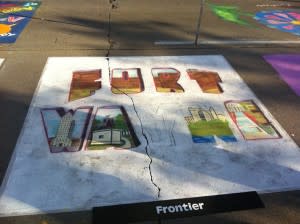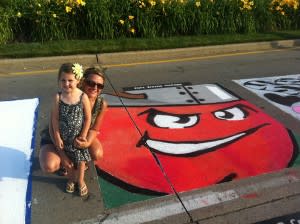 And, don't just take my word for it....Registrations to paint the squares sold out early so it looks like it's a favorite by more than just our family! Mark your calendar now and make plans to enjoy Chalk Walk! - - - - - - - - - Three Rivers Festival Friday, July 13, 2012 - Saturday, July 21, 2012 Indiana's second largest festival offers 9 days of fun for the entire family!  From the opening day parade, arts, crafts, amusement rides, and International Village, to live music, the Bed Race, and the all-new RiverGames Water Wars and canoe races, Three Rivers Festival brings family-friendly fun to the heart of downtown Fort Wayne!  Location: Headwaters Park – Downtown Fort Wayne For additional information, please visit the Three Rivers Festival website.