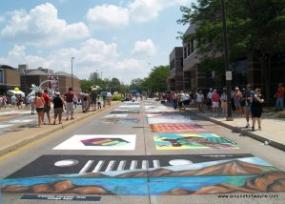 With the Three Rivers Festival fast approaching, that also means this year's Chalk Walk is just around the corner. One of the favorite events in the festival, the Chalk Walk, brings tens of thousands of visitors to the streets of Fort Wayne to watch the artists creating mind-bending masterpieces right beneath their feet. This year's Chalk Walk will be held Saturday and Sunday, July 12th and 13th, in the heart of downtown Fort Wayne on main street, just in front of the Fort Wayne Museum of Art, which is hosting the event. Fort Wayne's version of street paintings, the Chalk Walk is inspired by the Italian street painters of the sixteenth century.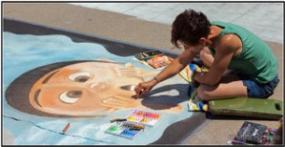 The Madonnari, as they were called, hailed from all over the country; many came into the cities to work on the cathedrals there. Once the churches were complete, the painters looked for other ways to earn a living and found the ground beneath their feet served as endless canvas space. Recreating images from the churches, like the Madonna, (hence their names) during certain holy days soon became a way to earn a few coins. The practice grew until soon many artists were coming together in the streets and creating blocks of impromptu masterpieces. Fast forward to the twentieth century and not only had the practice not faded away, it had begun to be endorsed by local governments and celebrated with festivals. Here in the twenty-first century, Fort Wayne's own Chalk Walk is not limited to professional painters and boasts a variety of subjects, styles, and artists. Local, regional, and even national artists of all ages will work diligently all day to create their own once in a lifetime masterpiece for visitors to enjoy. Visitors get the unique experience of watching the artists work and seeing the picture take shape before their very eyes. Once all the works are completed, prizes will be awarded. This year's awards are:
Trompe l'oeil - French for "fool the eye"
Fort Wayne Museum of Art's 30th Anniversary in Downtown Fort Wayne
The Golden Age of American Bicycles
Depictions of Fort Wayne Museum of Art Outdoor Sculpture
Best Use of a Street Blemish (only for those with cracks and manhole covers in their square)
People's Choice (voted by the attending public)
Be sure to vote for your favorite piece for the People's Choice award! The Chalk Walk is enjoyable for people of all ages, so bring the family and come watch the streets transform into beautiful works of art before your eyes. While you are there, stop by Art in the Park, the popular juried fine art show and sale going on just further down Main Street.