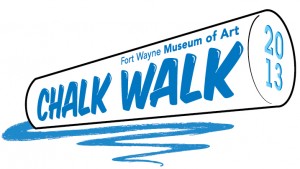 Remember sidewalk chalk from when you were a kid?  I do.  Every Easter the Easter Bunny brought sidewalk chalk along with sand pails, shovels, and a chocolate bunny.  This meant it was time to shake off the cold winter blahs and go outside and create something.  With my sidewalk chalk, I would draw anything that came to mind.  Flowers, hearts, the initials of the cute boy I had a crush on in the 6th grade…you get the picture.  I, however, never made it to the big leagues of sidewalk chalk.  That's right, there are artists who create genuine works of art out of chalk on a little square of cement.
Each year the Fort Wayne Museum of Art Chalk Walk is visited by thousands of people remembering what it was to draw hearts and clouds on the sidewalk in front of their childhood homes.  But this is more than just tic-tac-toe.  Dozens of artists will showcase their talent on 8'x8' or 4'x4' squares of Main Street (don't worry, Main Street's closed that day). 
Awards are given to the best artists in a variety of categories.  This year's include, Trompe l'oeil (French for "fool the eye"), Chihuly in Chalk, Depictions of Dia de los Muertos, People's Choice (be sure to vote while you're there), and Best Use of a Street Blemish (only for those with cracks or a manhole cover in their square).  Each artist has the option to create their own work or reproduce existing artworks. Organizations throughout Fort Wayne sponsor squares and artists.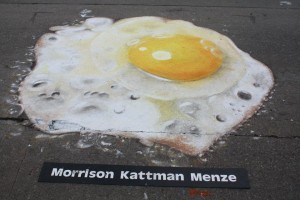 Chalk Walk is based on the Italian tradition of street painting dating back to the 16th century.  Chalk walk is free to attend and takes place on Main Street between Clinton & Lafayette Streets.  This family friendly event takes place in conjunction with the first weekend of the Three Rivers Festival. This year the event takes place on Saturday July 13 and Sunday July 14.  The event is free to attend and street parking on nearby streets is free on the weekends.
For more information on the Chalk Walk or, Three Rivers Festival, check out the Fort Wayne Museum of Art website, or Visit Fort Wayne!