Whenever we give tours at the African/African American Historical Society Museum (AAAHSM), the easiest, most "pointable" landmark we have at our disposal is right across Lafayette Street in the form of the building that houses Anthis Career Center. It ceased being Central High School when it was shuttered in the Spring of 1971.
We tell the tours that Central was the first high school in Fort Wayne (it went through a couple of name changes after it opened in 1902)…it was an early adopter of integrated education…it was a neighborhood school back when downtown was Fort Wayne's epicenter.
A couple of years ago, the AAAHSM started a documentary/retrospective project for the Central, and what we've accrued is now on display at the Allen County (Downtown) Public Library.
CENTRAL WAS THE FIRST is a 10-case exhibition, celebrating and contextualizing the shuttered Central High School; the exhibit will run from January to March 2017 at the downtown library on the Second Floor.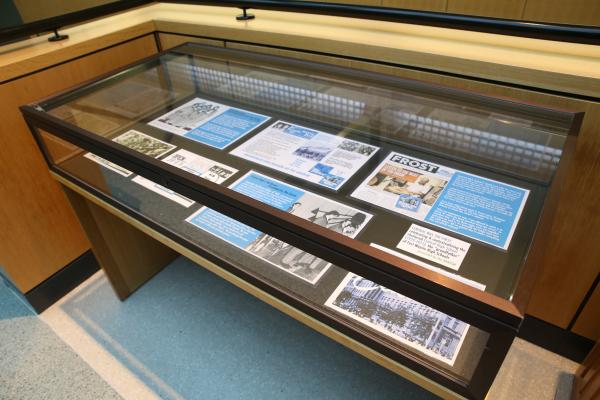 Exhibition Topics
Exhibition topics include (but not limited to):
Sounds of Central, the AAAHSM's on-going project that collects music from the school's alumni. Visit: www.soundcloud.com/sounds-of-fw-central
 
Rare sports pictures from the 1950s, donated by Wayne Township Trustee Rick Stevenson
 
A news-clipping tribute to the 1960 one-point loss Central basketball squad, a starting line-up that included T.C. Williams, J.C. Lapsley, Willie Curry, Willie Rozier, Jim Keim (who donated the clippings).
 
From Harmar School to Central High School and a peek at the 1950's grade school education. Research and pictures provided by Roberta Ridley of the African American Genealogical Society Fort Wayne (AAGSFW).
 
A tribute to one of the greatest Indiana athletes ever, Johnny Bright.
The CENTRAL WAS THE FIRST exhibition, on the second floor at the Downtown Public Library, will run until March.
For museum inquiries, call 260.348.4465.