Central City is celebrating its first year of business, expanding to include Thursday and Friday evening hours with live music for the summer.
Located on Calhoun Street, between Main Street and Columbia Street, Central City Café features an array of freshly prepared sandwiches, paninis, wraps, and flatbread pizzas as well as a fourteen foot salad bar. On a recent visit, my family enjoyed a Reuben sandwich, loaded with beef and sauerkraut and a delicious house-made Thousand Island dressing. My turkey bacon ranch panini was equally good, topped with turkey, bacon, cheddar cheese, spinach and an avocado ranch dressing. Central City's potato chips were a nice side, although if you're used to the grocery store variety, the handmade ones are different—less greasy and salty with a fresh crispness. If you're not a chip fan, they also offer sweet potato fries or a side of soup.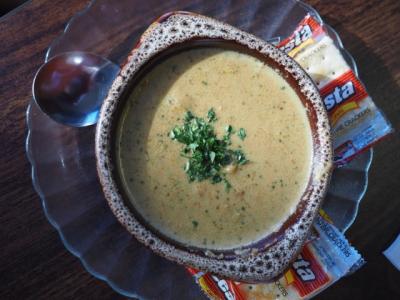 Our soup of the day was broccoli cheddar and it was loaded with real cheese and lots of flavor. Their menu has enough familiar sandwiches that it will not be daunting to the traditional sandwich lover, but also offers quality ingredients well prepared for those who consider themselves foodies.
Central City Cafe also features a make your own salad bar, which is located down the center of the room and is 14 feet long. Salads are sold by the weight, so you can make a salad as big or as small as you like.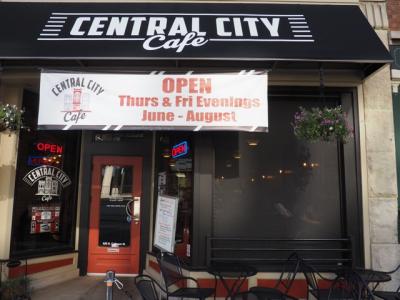 Even though Central City Café is located in the heart of the downtown district, it has ample space, with an urban, spacious feel. Besides a main floor dining room, they also have numerous tables upstairs, with a fantastic large window to view downtown.  During the summer, they also have sidewalk seating, with a screened garage door style front window, which is open to the sidewalk so outdoor diners can enjoy live music.
Recently, Central City Café increased their hours from June to August to include Thursday and Friday evenings, which will also include live acoustic musicians after 5:30. 
If you haven't enjoyed a fabulous sandwich or salad at Central City's Café, then stop by for a bite and enjoy this gem of a restaurant in the heart of downtown. Central City Café is located at 620 S. Calhoun St. Hours include 10:30-3:00 Monday-Wednesday, Thursday-Friday 10:30-8:00 PM.