To see Mairead Nesbitt, the female fiddler for Celtic Woman, on stage reminds me of a wild woodland sprite. She dances, jumps, and spins around on stage, while simultaneously strumming a complex tune on her violin.
It almost makes me dizzy to watch her. We had watched several of their shows on our local PBS station and during a previous experience when they appeared in Fort Wayne.
For those who are not familiar with Celtic Woman, it is a group of five females from Ireland. Nesbitt is the only instrumentalist; the others are sopranos.
In the early 2000s, Celtic Woman became popular worldwide with its unique renditions of Irish ballads, classical favorites and contemporary hits. In the US, Celtic Woman had sold-out shows at Radio City Music Hall, Carnegie Hall, Boston's Opera House and the Greek Theatre in LA.
Today, they are still a multi-platinum Irish music sensation. They will be in Fort Wayne on March 18 at the Embassy Theatre, 7:30 pm to present DESTINY, their new show as part of their world concert tour.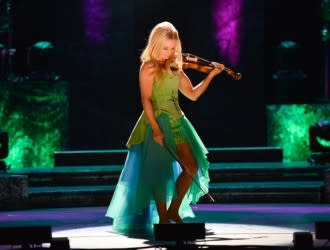 Several factors of Celtic Woman captivate my attention. First, the singing. If there could be a concept of angelic sounds on earth, it would be this group!
They sing a combination of tunes with familiar American words like 'You Lift Me Up' and 'Amazing Grace'.
They sing Irish traditional and contemporary songs. I can't understand a word of the traditional Gaelic language, but the beautiful voices, colorful wardrobes, talented musicians and backup dancers (think River Dance) makes a delightful experience.
Once, while on assignments for an area newspaper, I had the opportunity to interview Nesbitt by phone. When we talked, she was in Raleigh, NC, during one of Celtic Woman's US tours.
Nesbitt said movement comes naturally to her when she is playing her violin for a concert. "I've moved around like that since I was a kid learning to play the violin," she said. "I don't think about it. If you're enjoying the music, you move. It is another form of communication with the audience. First is the music. Second are the movements of how the music makes me feel. In Celtic Woman, we've been given the platform to move around and I certainly use it!"
Tickets are $109, $69, $49 and can be purchased by Ticketmaster, charge-by-phone 800.745.3000 and at the Embassy box office.