May is National Historic Preservation Month (http://www.preservationnation.org/take-action/preservation-month/) and since the Chief Richardville House has been much in the news, we thought it only right to spotlight on our blog another historic structure that the History Center owns--the Old City Hall on the corner of Berry and Barr.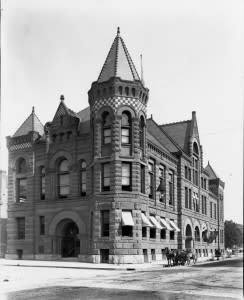 If you're looking for a fun way to spend a Saturday with your kids, grab your cameras and come to downtown. Get out of the car and walk around, snapping shots of architectural elements on the variety of buildings in this part of Fort Wayne, then head over the Allen County Public Library for a little research on architecture as an art form. Your photos can make an interesting scrap book, art work for greeting cards or framed prints for your home. Plus you'll learn a little bit about the history of our city along the way. City and county government is now housed in Citizen's Square with some offices also in the Edwin J. Rousseau Centre at Clinton and Main. But the History Center was once the home to city government and the building we are in has quite a history unto itself.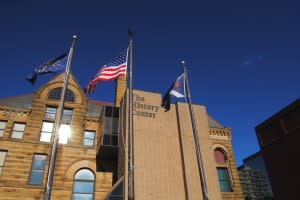 Michael R. Ormiston, PhD.,writing in "Fort Wayne Law Enforcement and the Old City Hall" (copyright 1985 by the Allen County-Fort Wayne Historical Society), quoted DeWitt C. Goodrich and Charles R. Tutle in "An Illustrated History of the State of Indiana" in 1875. "'The County Court House and County Jail, both located in Fort Wayne, are substantial buildings, well adapted to the purposes sought. There is yet no commodious city hall, nor is any needed at the present day, that would impose a heavy tax upon the city…." W.S. Haymond released this book again in 1879 and agreed. But the people of Fort Wayne did not. The second City Hall, built in 1869, was deemed too small and in 1885, citizens decided a new structure that would bring all city offices together was in order. "A committee was formed to study the details of a new building, and in 1892, after several annual tax levies, the committee provided $69,919.68 to the building construction fund. On April 20, 1893, the third new City Hall was completed, at a cost of $59,385.58, with an additional $10,420.88 spent on furnishings. The lot was expanded in 1893 when the city bought eighteen feet adjoining on the east, paying an additional $2,250.00. The structure was praised by one of the city's newspapers as '…an ornament to the City…the best, most complete, most elegant-appearing, and the most economically constructed City Hall in Indiana or anywhere else.'"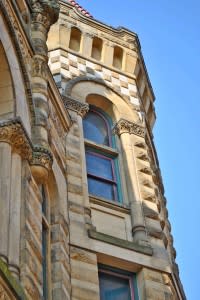 However…and when it comes to public comment on city government there's always a however….others called it the "Hapsburg Horror" according to a July 16, 1983 article in the "News Sentinel" written by then Historical Society executive director Michael Hawfield. "The 'Hapsburg Horror' tag, besides being a mild political gibe at a couple of mayors' ancestry, alluded to the sizable tax levy (more than $60,000) imposed to build it—a 'royal' figure for those times (royal as in Hapsburg, the German royal house that ruled Austria in that era)." "Fort Wayne Interim Report Indiana Historic Sites and Structures Inventory—1996" shows a two story house with porch where the parking lot to the east of the building is now and describes the building as "Richardsonian Romanesque, 1893, Wing and Mahurin, architects". At one time the address was 308 East Berry Street. From this book: "Boston architect Henry Hobson Richardson (1836-86) developed this style in the 1870s, combining the heavy masonry and prominent arches of Romanesque Revival architecture with features borrowed from many sources, including late Gothic Revival, Syrian, and Queen Anne. After his death, interest in the style increased with the majority of houses and buildings in the style built from 1887 to 1900.
Richardsonian Romanesque buildings are rough-faced stonework, often with contrasting colors creating decorative patterns. Wide, rounded arches supported by short, squat columns are characteristic of this style. Round towers with conical roofs are common, usually with arcaded windows near the top. Interlacing floral designs are the most common decorative details. Because of the monumental nature of the style, examples were never common. "Fort Wayne, however, is fortunate to have a number of Richardsonian Romanesque buildings." You can see another example of this architectural style in the home of John H. Bass or Brookside on the University of St. Francis campus. We're including some photos of the building to whet your appetite to come down and take a closer look. The detail is incredible and remember--construction in the early 1890s was not nearly as easy to accomplish as it is today.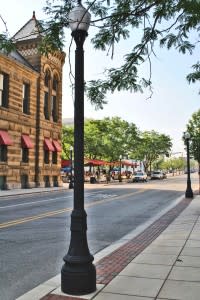 Architect Marshall S. Mahurin was born in Fort Wayne in 1857 and died April 23, 1939. He was the son of Isaac Mahurin, one of the city's first public school teachers. His partner, John F. Wing, (1852-1947) came to Fort Wayne in 1878, according to the City of Fort Wayne's web site, and worked in partnership from 1882 to 1907 with Mahurin. Wing and Mahurin formed their partnership in Fort Wayne in 1882. According to the city's web site, "The two quickly made a name for themselves and were soon established as the premier architectural firm in Fort Wayne. The firm specialized in the popular Richardsonian Romanesque, Queen Anne, and Neoclassical styles of architecture, and designed many public and private buildings throughout Indiana and Ohio. They remained partners until 1907. Among the Fort Wayne landmarks designed by Wing & Mahurin are the John H. Bass Mansion (Brookside)…several outstanding houses in the West Central Historic District… the Elektron Building…and St. Paul's Evangelical Lutheran Church." The Elektron Building is on Berry across from Citizen's Square.
You can capture some great photos of the elements on this building with your camera. Hawfield described the feelings of many in the city regarding their new City Hall: "Although later generations, put off by the soot deposits of the coal age, often scorned the fortress-like city hall, in the eyes of many contemporaries, the structure was magnificent. Its very bulk conveyed the sort of power and authority citizens could admire and respect. And there was no denying, within its walls lay the powers of city government. Entirely suitable to its overall image was its rear portal, which led to the dank basement jail where society's offenders and ne'er-do-wells were conspicuously taken." That former jail is now one of the most popular portions of the museum's exhibits! By the time our building was abandoned as City Hall in 1971, 14 different mayors and 18 different administrations had served the city. On October 11, 1972, local officials began the effort to have the building added to the National Register of Historic Places. Ormiston wrote in the epilogue to his work: "'Why save the Hall?' asked many citizens. Others were not so nice and called the structure an old 'rock pile'. One of the more prominent local dignitaries was quoted as having said, 'Well, it's a fairly nice example of a rather horrible type of architecture.'" Hawfield explained, however, that "Others…sought to preserve the structure and turn it to some other productive use. By the late 1970s, the building's fate was decided, and in a great fund-raising effort by the Allen County-Fort Wayne Historical Society, the city administration, and numerous individual and corporate donors, the Old City Hall underwent a $1,000,000 renovation to become the second largest museum of its kind in Indi