August may be almost over, but never fear! There's plenty of artsy summer fun left, and fall has a lot in store as well. As a performing artist living in Fort Wayne, here's what I'm most excited about hearing and seeing in the next few months.
Celebrate the Arts in Fort Wayne
Taste of the Arts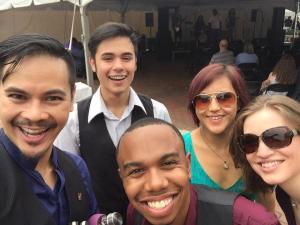 Taste of the Arts this weekend on August 25 & 26. Taste of the Arts is a weekend-long annual extravaganza that brings together two of the best things in existence: music and food.
With innumerable performers and delectable bites from the area's impressive arsenal of food trucks, this event is not to be missed.
Catch me and the other full-time vocal artists at Heartland Sings (that's us in the photo) at noon on Saturday, then come by our booth and take a selfie for a chance to win a prize!
September 8-17: Fort Wayne Civic Theatre: Jeckyll and Hyde
The Fort Wayne Civic Theatre is a staple of Fort Wayne, with five ambitious shows planned for the 2017-2018 season. In September, they welcome the two-faced Dr. Jeckyll to their stage at the Arts United Center. 
September 9-10: Fort Wayne Arts Festival at Jefferson Pointe
After a 10-year break, this event is back with gusto! As a newer Fort Wayner (I moved here in 2015), I haven't been to the Fort Wayne Arts Festival, which includes an art fair and a concert on Saturday night at the beautiful outdoor Jefferson Pointe Shopping Center. Shopping, artwork, music--what more could you ask for?
As a performing artist who managed to secure full-time employment, I feel great camaraderie with the dancers at the Fort Wayne Ballet, who are in the same shoes (albeit ballet flats rather than high heels). The Fort Wayne Ballet is beginning its season with A Dancer's Legacy, a collection of three dances by famed choreographers and dancers Gerald Arpino and Edward Stierle.
Plan your getaway to Fort Wayne today, and discover Fort Wayne's amazing arts community!