Music played at Christmas soothes troubled spirits and brings warmth to hearts. Few performances showcase Fort Wayne's musical talents of the season better than The Living Christmas Tree.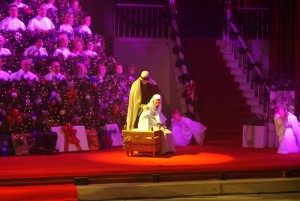 First performed in 1977 at Blackhawk Ministries (formerly Blackhawk Baptist Church), the Tree continued its performances for many years at that location before taking a hiatus. Now in the fifth year of its revival, the Tree's performances take place at the Scottish Rite Center, 431 W. Berry Street in downtown Fort Wayne.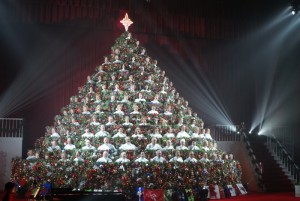 The "Tree" is actually a steel structure with 13 tiers that serve as branches. The tree holds 110 volunteer singers from the community who begin practices in late summer. A troupe of actors, including Wise Men and contemporary figures representing policemen and nurses, perform the drama of the Nativity that takes place during the show. Teens and children choirs are also part of the costumed and decorated shows. Music played at the Living Christmas Tree vary from traditional Christmas hymns to contemporary tunes like 'Marshmallow World,' 'Christmas is Christmas' and 'Christmas in Heaven'. Gather friends and family to attend this meaningful event this Christmas season.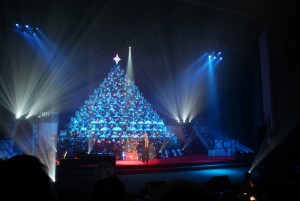 Dates: December 3 & 4. There are two concerts each day at 3:30 p.m. & 6:30 p.m. Tickets cost $10 in advance and $12 at the door. Tickets are available at the Rustic Hutch at Jefferson Point and Pine Valley. You may also purchase tickets at www.trinitycommunications.org or by phoning Trinity Communications at 260.484.1029. Doors open one hour before each performance. CDs of the 90-minute performance are available for $10. Call Director Pete Kobe at 260.490.2490 for details.