I've always been lucky enough to have a pool to go to when it was warm and sunny, but every once in a while, it's nice to switch it up a bit and visit the local pools or spraygrounds.  Don't you agree that it's time for a little fun in the sun!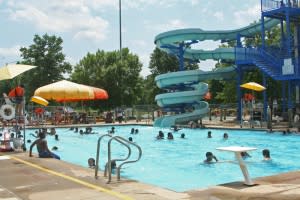 The Fort Wayne Parks and Recreation Department has a few options when it comes to keeping cool on those hot summer days.  North Side Park, McMillen Park and Memorial Park pools all open for the season, starting June 9th.  I suggest checking the Fort Wayne Parks and Rec's website for hours of operation and admission fees, as they vary depending on which pool you choose. I love that all of the pools have slides; it's like having a water park in town without driving out of town and paying the water park prices.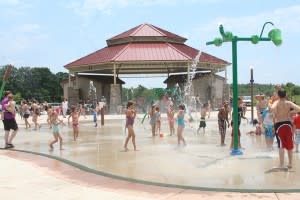 Another great option is the seven spraygrounds located around Fort Wayne. The great thing about them is that they are free of charge and offer hours of entertainment for children and adults alike. I love the spraygrounds because they offer just enough water to cool off, with the option to get soaked if I decide. Spraygrounds are located at Memorial, McCormick, Waynedale, Shoaff, Buckner, Robert E. Meyers parks as well as the newest addition at Taylor's Dream Boundless Playground in Kreager Park.  All spray grounds opened for the season on Memorial Day weekend…and did I mention they are FREE?!?!  Hours of operation, detailed park information and directions are listed on the Parks and Rec website or by clicking the links on the parks listed above. After being trapped indoors for months, it's time to bask in the warm summer weather! So, pack up your family (and the sunscreen) and enjoy!