I was born on Mother's Day and my mom always used to tell me that she got the best present in the world on that special day. Now that I'm a mom, I wonder if she was gritting her teeth every time she said that to me. A baby is one of those "presents" that keeps giving, and not always in a good way. Okay, I'll quit beating around the bush. Being a mother is hard work! So, every year I look forward to that wonderful second weekend in May that is mine, all mine. Yes, I celebrate the entire weekend. All mothers should!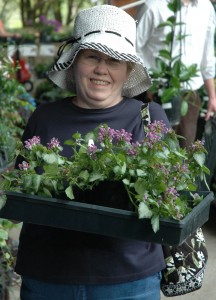 This year my family is taking me to the Mother's Day Plant Sale on Saturday. It's located at the roomy McMillen Ice Arena, 3901 Abbott Street. I buy all of my vegetable starters, my herbs, my annuals, my perennials and my hanging baskets at this sale because the prices are amazing and the plants are extremely hardy. There's a plant list at
www.botanicalconservatory.com
. The sale is Friday, Saturday and Sunday, but on Saturday there will be local gardeners on hand answering questions and talking about how to grow your own fresh food at home, starting with soil care, choosing plants, watering, and fertilizing.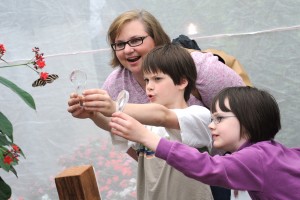 Then, on Sunday, after the whole family helps me plant my trunk-load of goodies, they're taking me to Mothers Day in the Garden at the Botanical Conservatory on Calhoun Street. Mother's get in free! The Butterflies of Malaysia exhibit is in town and they're hatching like crazy. I don't know what's more beautiful—the Cethosia cyane butterfly or the endless array of flowers growing inside and outside the Conservatory. There are fragrant blue petunias, hot pink cockscomb, yellow lantana, green and burgundy coleus and every color impatient you can imagine. I'll wonder through the Desert and Tropical Gardens as well that day. Admission for the rest of the family is $5 for adults, $3 for children ages 3 – 7, and children 2 and under are free. Doesn't that sound like the perfect weekend for a tired, greatly appreciated mom? For more information about both of these events, visit
www.botanicalconservatory.org