With Memorial Day Weekend fast approaching, it's time to make plans for celebrating the holiday. You may have family visiting Fort Wayne, or may be taking advantage of the long weekend and are visiting from another city.  Either way, we found some of the best free activities around the city to honor those who have served our country. 
If you are planning to visit other attractions around the city, be sure to check to see if they will be open or have different hours of operation. In the morning, show support for the community and veterans by bringing the family to a Memorial Day Parade, beginning at 11 a.m. at Parnell Avenue and State Boulevard.  The parade route ends at the Memorial Coliseum, at which time there will be a memorial service.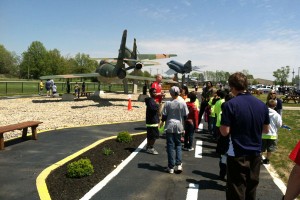 For the plane enthusiasts, the newly-opened Baer Field Heritage Air Park has planes from the 122nd Fighter Wing from 1947 to today.  Visitors can take a self-guided tour of the park that shows the history of Baer Field as well.  There is a picnic area and free parking.  Other memorials in the area are the Korean War Memorial on 2122 O'Day Road and the WWI Memorial on Randall Street east of Glasgow Avenue.
In the evening, attend a free screening of Honor Flight at Parkview Field at 6 p.m.  The film describes the creation of honors flights, free trips to the WWII Memorial in Washington, D.C., for veterans.  Five hundred veterans have been invited to attend a special screening of this moving film at Parkview Field.  The premiere of the Honor Flight was also in a baseball field, and attendance at the event broke the Guinness World Record for amount of people at a film opening. You can also read more about other fun ways to spend your weekend here. Enjoy!