This year, celebrate Black History Month by getting to know a few of the many incredible African-American restaurant owners, musicians, and artists in Fort Wayne, Indiana. Next time you're in Fort Wayne, enjoy a delicious meal, music performance, or gallery exhibit featuring one of these talented locals. 
Fort Wayne Locals to Know this Black History Month
Soul Food in the '06
Representing the Southeast side of the city, Charles Washington is a self-proclaimed product of the Oxford St./Hessen Cassel Rd./Wayne Trace area, so much so it felt natural when he planted his soul food restaurant, Charlow's Grill, at 3103 Oxford St., at the Oxford St. & Hessen Cassel Rd./Wayne Trace intersection.
"I wanted to provide something that our community didn't have," Washington said, which was a viable, open (almost every day) restaurant option.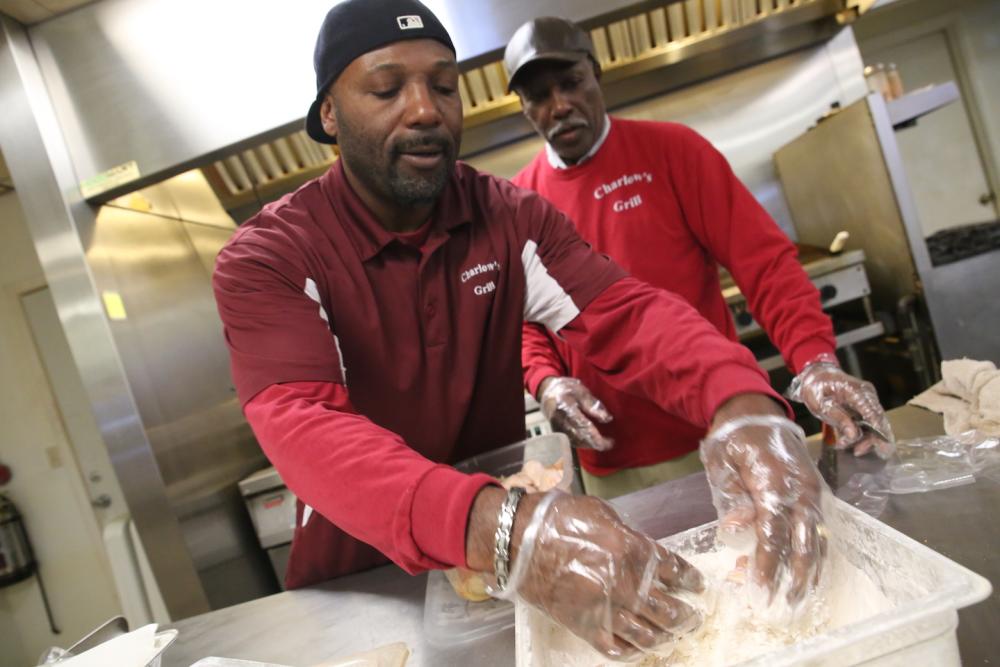 Charlow's Grill, open five days a week (closed on Sunday and Monday), boasts soul food staples like collard greens with cornbread, mac & cheese, okra, but also sandwiches, chicken dinners, fish dinners, and fish & chicken baskets. Catfish is, by far, their biggest seller.
Charlow's is family-owned and operated; Washington's father Jessi and his wife Lavonia also work there. It was built from the ground up. "It was nothing here, but a slab of concrete," he said.
The first year was the hardest. Charlow's turning point, to a place of respectable viability, didn't really come until the two-and-a-half year mark. "I'm not going to say we turned it all around, but we got a clientele now," Washington said.  "A lot of people like the product…the food keeps them coming back." Charlow's five-year run is worth celebrating.
Charlow's Grill, 3103 Oxford St., Fort Wayne, IN 46806
(260) 745-8313
Other restaurants to consider:
RMY's Restaurant (Soul Food), 3402 Wayne Trace, Fort Wayne, IN 46806, Open Sundays Only, (260) 456-1409 | Learn More
Pepper + Spice Jamaican Restaurant, 2801 Lower Huntington Rd., Fort Wayne, IN 46809, (260) 747-1150 | Learn More
Fatima the Performer
Singer/songwriter Fatima Washington is one of those imports to Fort Wayne who, outside of attending and graduating from Emory University in Atlanta, never left. Here, Washington rediscovered her roots as a singer after a health diagnosis that made her reevaluate her priorities. She was neglecting her music but soon corrected that. She caught the eye of local R&B singer Ty Causey who encouraged her to return to form.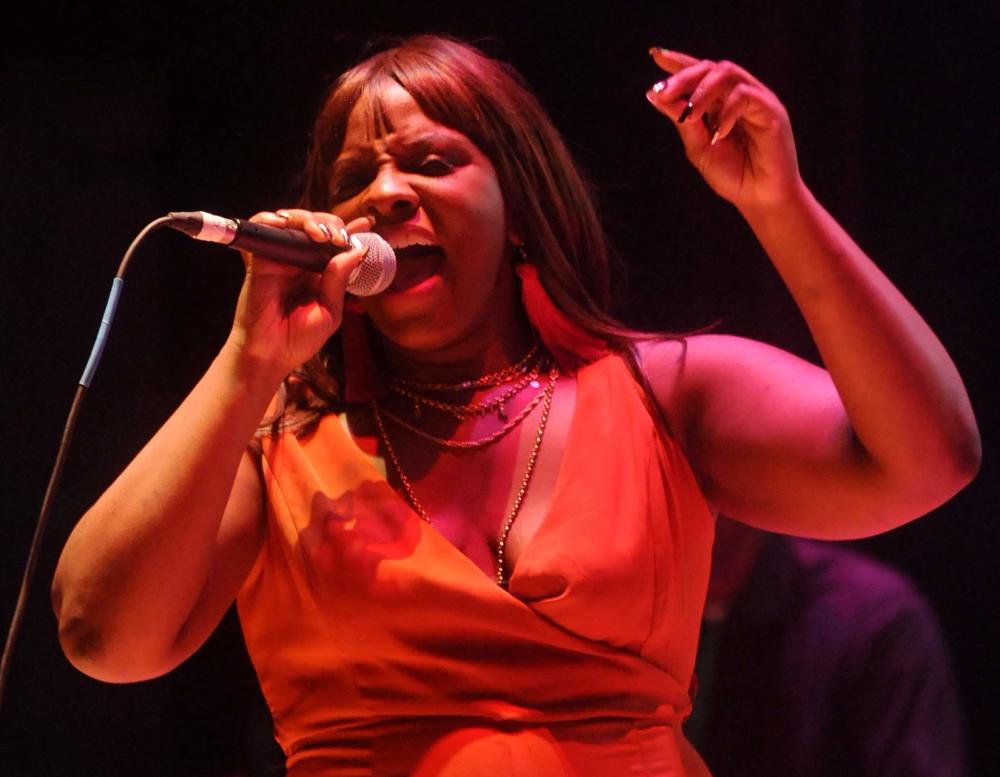 "Fort Wayne gets a good mix of [national] people to be on stage with," Washington said, who had learned to sing with big acts starting at age 16. In her career, Washington has performed with acts like Keith Sweat and Heather Headley, the homegrown singer who went on to win a Tony Award in 2000. "For a brown girl seeing another brown girl [win a Tony]," was everything for the teenager, she said. Only intending to just sing four words in the song, Washington was cheered on by Headley herself to sing more, a fun story that involved the award winner throwing a shoe at her, all in good fun.
Washington the performer has been coupled with entrepreneurism, as she produces her own shows now. Want to catch one of her shows? Stay up to date on upcoming performances.
Other artists to know:
Theopolis Smith III — aka Phresh Laundry — is a self-taught artist with famous clients that include Oscar-winner Spike Lee. His work often features pop culture figures portrayed in his unique, colorful style. Check out his art online or in-person during a gallery exhibit or special event around Fort Wayne. Don't forget to check out the "Better Together" mural he completed with Fort Wayne artist Matt Plett, located at 4302 Fairfield Ave. (See #19 on the Fort Wayne Mural Map.) Learn more at PhreshLaundry.com.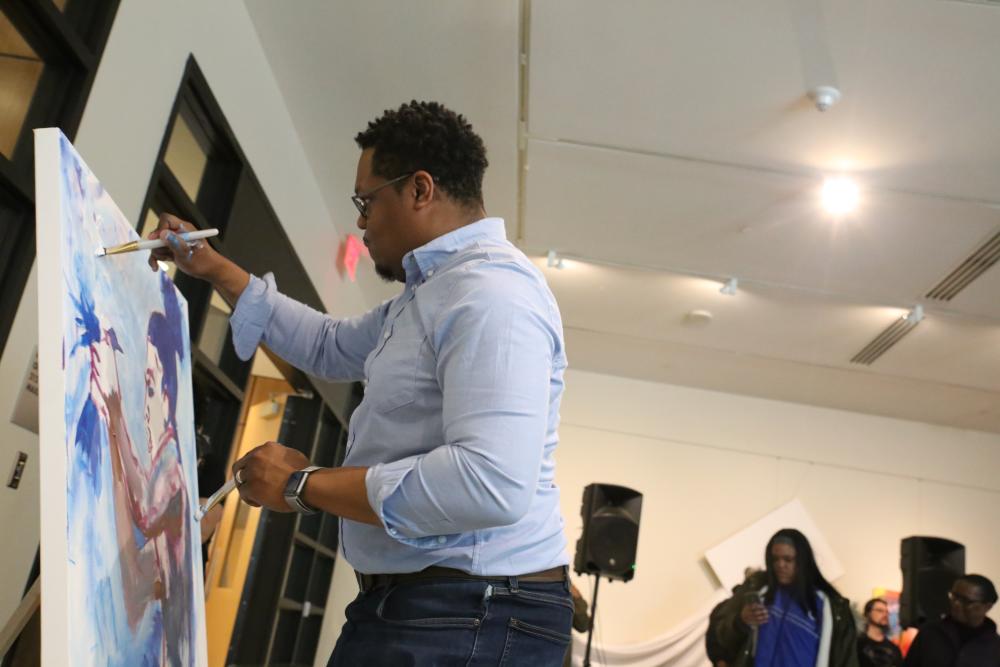 Big Apple Jazz Club is a monthly series with rotating jazz musicians (including national acts), taking place at Wunderkammer Company art gallery at 3402 Fairfield Ave. Don't miss this month's event, Sisi Ni Njia Ya Kale Project Live, on February 9, incorporating aspects of jazz, West Afrikan, and other Eastern music and spoken word artistry.  Learn more about upcoming events here.
If you're a fan of comedy, enjoy a laugh every weekend at the Fort Wayne Comedy Club. This African American-owned comedy club, located just a couple blocks south of downtown, brings in up-and-coming comedians with two shows each Saturday. Learn more about owner Mike Moses and upcoming events here.
Additional Resources
Please note—this is not a comprehensive list of African American-owned restaurants or businesses, or African American artists in Fort Wayne. Want to recommend a restaurant, retail store, or artist for an upcoming blog post? Leave a comment below or send an email to marketing@visitfortwayne.com.
Looking for additional resources? Check out Fort Wayne Ink Spot, a black-owned newspaper in Fort Wayne sharing stories about African Americans and other minority groups. You can also find more businesses listed on the Fort Wayne Black Chamber's website.
Discover more by participating in Black History Month events happening in Fort Wayne this February!