Cebollas (Se-BOY-yas) means "onions" in Spanish, and since onions are represented in almost every Mexican dish is it quite appropriate that "Cebolla's" is also be the name of three of Fort Wayne's most popular Mexican restaurants! The three Cebollas restaurants in Fort Wayne are located at Dupont Rd., near Glenbrook Mall on Fernhill Dr., and at Times Corners Shopping Center. In addition, Don Chava's Mexican Grill, 1234 North Wells Street in Fort Wayne, is another restaurant in their family.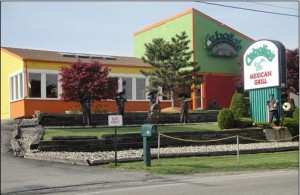 My favorite Cebolla's Mexican Grill is located at Times Corners. All three restaurants feature authentic Mexican dishes, such as grilled chicken, platanos (bananas with fried tortilla), fajitas, chimichangas, carnitas, and enchiladas. The colorful décor with stucco walls, tile roofs, and colorfully painted murals on tables and chairs creates an authentic Hispanic look. Accompanied by the sounds of a Mariachi band that performs music periodically, the restaurant creates an atmosphere similar to a Mexican plaza. A sky light above the interior fountain provides a cheerful light that sparkles on the water like diamonds on a sunny day. Friday and Saturday nights are the busiest nights of the week, but the restaurant's lightning-speed service is always  impressive. During one visit, I barely had my coat off my shoulders before a bowl of chips had arrived at our table. The staff speaks both English and Spanish. Don't worry if you've always mispronounced the name of Cebolla's. Just grab a friend and head to one of the three locations in Fort Wayne. You'll have fun making bets about the pronunciation as you crunch chips and enjoy a great meal. Cebolla's offers carry-out service and catering for parties. A Sunday brunch is available at the Jefferson and Dupont branches from 10:30-3pm. Learn more at
www.cebollasmexgrill.net!
______________ Cebollas Mexican Grill 5930 W. Jefferson
Phone:
260.436.1650 236 Fernhill Avenue Fort Wayne, Indiana 46805
Phone: 260.484.8423
602 East Dupont Road Fort Wayne, Indiana 46825 Ph
one: 260.497.8762
Hours:
Sunday -- Thursday: 11:00 AM to 10:00 PM Friday & Saturday: 11:00 AM to 10:30 PM