I decided to take a nice, relaxing Thursday afternoon in the beginning of August to enjoy
Lunch on the Square
and the Cathedral Museum with my kids. The Cathedral Museum is located at 915 S. Clinton St. on the lower level.  The museum is open Tuesday-Friday from 10am-2pm.  Admission is free and there is free parking in the garage attached to it (just be sure to stop at the receptionist desk to get your ticket validated).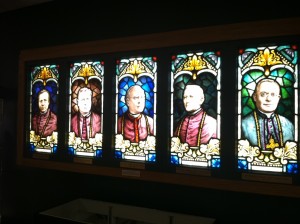 The Cathedral Museum is smaller than most museums in Fort Wayne, but looks can be deceiving. There are hundreds of religious artifacts dating back to the time of Jesus Christ and Abraham. Being born and raised here in Fort Wayne, I love that the also include alot of history from Fort Wayne and the religious leaders who lived here. When you go, expect to see statues of Jesus, the Pope, and beautiful stained glass of previous Fort Wayne bishops, altars and a picture timeline of the Cathedral of the Immaculate Conception. Since the museum is open around the lunch hour, be sure to check out some
downtown dining suggestions
to add to your trip. While you are downtown already, you won't want to pass up on the chance to visit one of our great local restaurants!