Check out other Outdoor Dining information here.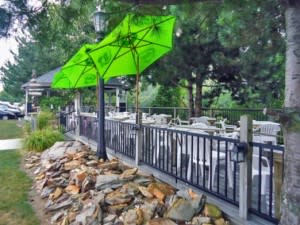 There's nothing better than enjoying a great meal with family or friends al fresco. Gone are the harsh days of winter. Now it's time for longer days filled with sunshine. If you're like me, you jump at the opportunity to get some fresh air whenever you can--especially when dining. Fort Wayne has a lot to offer in that regard. Here are a few of my favorite places to grab a bite and enjoy the scenery:
The Deck: The Deck is the fun, let-your-hair-down child of the local restaurant franchise Hall's. Overlooking the St. Mary's River, The Deck serves up a full lunch and dinner menu as well an impressive assortment of drinks. I recommend trying the spinach dip and an electric lemonade.
Club Soda: Located adjacent to The Deck in a historic building, Club Soda exudes sophistication. A favorite stop for martinis , steaks, and appetizers, Club Soda knows how to do it right. They have a ground level patio as well as a second floor terrace.  If you're going on a weekend, I advise calling ahead, to secure a seat.
JK O'Donnell's: There's no other than JKs when it comes to Irish pub food with a twist. They offer an impressive selection of entrees, many of which are made with locally sourced food. They really practice what they preach. The interior is charming, but the patio is intimate. I enjoy sitting out there while absorbing the urban energy.
El Azteca: El Azteca's brand of Mexican food is second to none. Fresh ingredients and family recipes are their claim to fame, and you can tell the difference. They have a dining room, bar, and patio area with several tables.
Main St. Bistro & Martini Lounge: Open since last fall, Main St. has earned a reputation for its mixology. But there's more to this place than just drinks. According to their website, they specialize in West Coast-inspired cuisine. Think locally grown, a tad unpredictable, and full of unique and fresh flavors. The outside patio is heated, which provides some comfort on a chilly summer night. There is plenty of seating out there, too. Bon appetit!