Zac Brown Band may have nine hit singles, two platinum-selling records and countless dedicated fans, but to hear it's members talk they're just getting warmed up. That's right, after numerous nights in front of packed arenas and amphitheaters, things are just beginning to come together for this accomplished band of brothers, led by one of the most charismatic individuals ever to don a beanie and dominate radio. The band's latest album 'Uncaged' (Atlantic/Southern Ground) which debuted at #1 on Billboard 200 is proof positive. The result of a highly collaborative process, it's the sound of a group of versatile musicians gelling into a formidable unit and realizing they're capable of anything their fearless leader happens to dream up, from traditional country ("The Wind") to Caribbean rhythms ("Jump Right In") and even slinky bedroom R&B ("Overnight"). Running roughshod over genre boundaries, and bringing its audience along for the ride, its title is absolutely accurate. This is truly the sound of a band 'Uncaged'. The addition of percussionist Daniel de los Reyes has helped the band move the groove along. His new bandmates describe de los Reyes, known for performing and recording with Stevie Nicks, Sting, Peter Frampton and Earth, Wind & Fire, among others, as a consummate professional.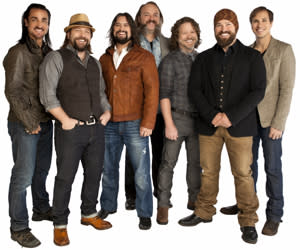 In many ways Zac Brown Band is an unlikely success story. Bands who cover so much territory tend to become critics' darlings, but not platinum sellers. One cool thing about Zac is that he loves to include everybody, De Martini adds. He doesn't really have to have the Zac Brown Band. I think he would be successful just as Zac Brown. But the band adds a lot and takes it to another level. It's one big family with him. The Zac Brown Band will be performing at the Coliseum on January 11
th
, get your tickets now! For information on how to get tickets visit
www.fortwaynecoliseum.org
or www.zacbrown.com!