Where can you go to pick up fresh sunflowers
and
hear a local live band? The
Barr Street Market
of course!
YLNI is celebrating the eighth year of the Barr Street Market in 2012!
YLNI
is gearing up for the next season, which runs July 7th through September 15th.  The market offers fresh and unique local produce, plants, meats, baked goods and homemade crafts in a cultural setting.The Barr Street Market is a producer-only market, meaning that their vendors personally make or grow the products they sell. Every vendor is local, coming from Allen or surrounding counties. Live music and children's activities add to the experience. Between 500 and 700 people attend the market each week.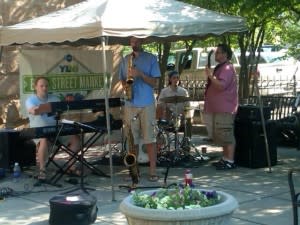 Here's what you can expect for the 2012 band line-up: July 7: Sunny Taylor July 14: Will Certain July 21: Mike Conley July 28: Dan Smith August 4: Hubie Ashcraft August 12: Colin Boyd & Friends August 19: Jon Durnell August 25: Gene Donnelly September 1: Groove Caravan September 8: Adam Strack September 15: End Times Spasm Band
The market is open on Saturdays from 9 a.m. to 1 p.m. and is still located in the heart of downtown Fort Wayne on the corner of Wayne and Barr Streets. Bands play the duration of the market.
Free parking is available in the History Center lot along Berry Street and on the streets in the surrounding blocks, with ample opportunities to lock up a bicycle as well. Admission to the History Center is free during market hours.