Casa Grande is not your average Mexican restaurant for these 8 reasons: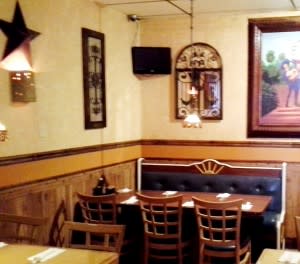 8.  The inside décor is fabulous!  I was impressed by this as soon as I walked in.  The dining room is spacious and decorated with a mixture of traditional Mexican décor plus some contemporary fixtures.
7.  The staff is very welcoming.  This sounds like a given, but each person I met seemed genuinely happy to have me there.  The service was also excellent.
6.  Try the new dipping sauce for your tortilla chips as you wait for your meal.  I was expecting to taste traditional blanco queso (white cheese), but the restaurant serves its own white dip – a spicy house sauce containing mayonnaise, Ranch dressing and other seasonings.  Yum!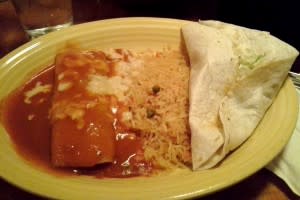 5. At lunchtime, you can choose from two dozen lunch specials and combos, ranging from full meals to snack-sized portions.  My Speedy Gonzales was fresh and delicious, and I would love to try the Seafood Chimichanga sometime.
4.  Some dinner entrees that caught my eye were the Pineapple Paradise (seafood, peppers and cheese in a hollowed-out pineapple) and the Chori-Pollo (grilled chicken and cheese covered with a chorizo-a Mexican sausage).  Be sure to grab one of the beautiful mini menus to take home.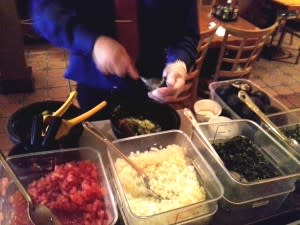 3.  My waitress told me that customer favorites are the plate-sized burritos and the Alambre-a fried pita bread topped with meat, cheese and vegetables.  Customers around me were ordering the Alambre and were raving about it, so I guess I'll have to order that the next time, too.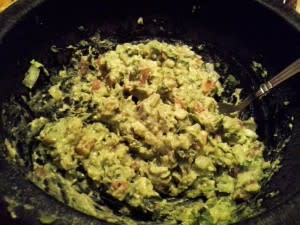 2.  Guacamole has always been something I've avoided in the past, but I thoroughly enjoyed mine at Casa Grande.  The restaurant serves customized guacamole that's prepared at your table-a concept that's trending at other Mexican restaurants. Customers can make guacamole with any combination of jalapenos, cilantro, onions, and tomatoes.  (My only complaint is that the waitress did not tell me the guacamole would be $8.00; she'd indicated it would be complimentary.)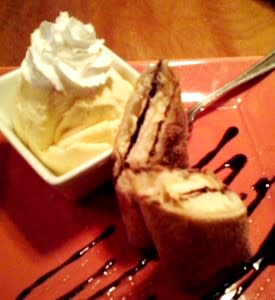 1.  I know that most people don't consider dessert to be a highlight at a Mexican restaurant, but Casa Grande's Xango is one of my favorite desserts in Fort Wayne!  With a deep-fried cheesecake topped with cinnamon sugar, chocolate syrup and accompanied by French Vanilla ice cream, what's not to love?
 It's a large portion, so I highly recommend sharing it.  Other traditional desserts are on the menu, too, like churros, fried ice cream and flan.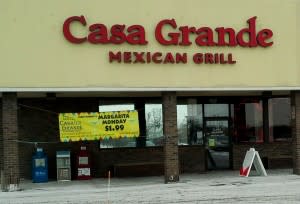 When deciding your next dining destination, choose Casa Grande.  Your tastebuds will thank you!
Casa Grande is located at 6035 Stellhorn Rd. in Northwood Plaza.  Visit the restaurant online here or on Facebook here.  Open 7 days a week. 260-969-0005