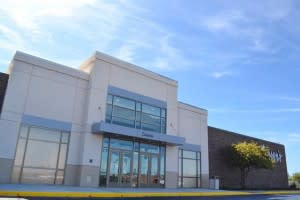 Carson's
, a nationwide department store, has opened its doors in Fort Wayne at
Glenbrook Square
! The fashion and lifestyle retailer is now occupying the space left vacant by the beloved Marshall Fields after that store left in 2005. Everything from the entrances, to the floors, to the dressing rooms have been renovated and renewed for Carson's to open up to the public. The store is bright, clean and perfect for a little bit of retail therapy! The store features men's, women's, children and teen fashion -  as well as cosmetics, shoes, handbags, bedding, bath, and home decor. Basically, it is a one stop shop for all of your family's home and style needs (and let's be honest, a lot of WANTS!). True to many department store models, there are tons of brands offered at Carson's that can fit anyone's price point! There are many of your favorites, along with a few that may soon become favorites, available. Some of the brands you'll find while browsing are: COACH, Calvin Klein, BCBG, Levi's, Nine West, Lancome, Tommy Bahama, Yankee Candle, Nike - and hundreds more! If you're a sports fan Carson's also has that covered with apparel and other merchandise from the NBA, NHL, NCAA, MLB, NFL and NASCAR.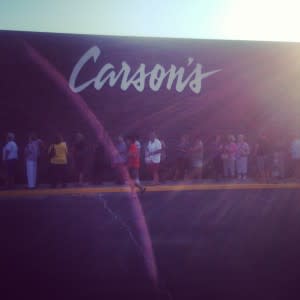 Not only will Carson's be a new shopping staple in town, the department store is looking to become a community leader as well. This began earlier in the summer before the store was even close to opening with underwriting programming on public radio and even sponsoring the 3 Rivers Festival in July. The community involvement will continue now that the store is open to the public. Carson's plans to do a lot of work with area non-profits and fundraising through the sales of coupon books - letting the organizations keep the money raised from the coupon book sales. They will also be partnering with Goodwill for Goodwill Donation Days. On these days customers can bring in gently used items and in return receive special discounts on merchandise. To kick off their relationship with Fort Wayne, 10% of all sales made during their grand opening will benefit Fort Wayne Trails, Turnstone and Arts United! So, not only will shopping at Carson's fill up your closet, it will also help out the Fort Wayne community! If you want to find out more information about Carson's, you can check out
Visit Fort Wayne
, Glenbrook Square's
website
, or Carson's
website
 (while also doing a little online shopping - I won't tell!).