To hear Ron Layton tell it, making the trip to Fort Wayne to dine at his restaurant – Captain Ron's Corral Bar – is almost like winning the lottery. "With this economy it seems you can't get a complete meal at McDonald's for under $6," lamented Layton.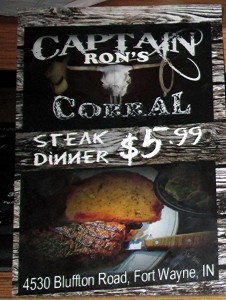 "We offer an 8-oz. NY strip steak with a salad, baked potato and a piece of garlic bread for only $5.99!  This sets me apart from everyone in town and is a HUGE draw for out-of-towners. The advantage is that customers can have a very affordable dinner and leave all the cooking and cleaning to us." Children are allowed to dine until 9 p.m. each day as long as they don't enter the bar area, said Layton.  After 9 p.m., the place comes alive with music. "Live entertainment is fall, winter and spring," said Layton, "and we have live country bands only on Fridays and Saturdays.  I also own a karaoke system where people can sing any night they wish."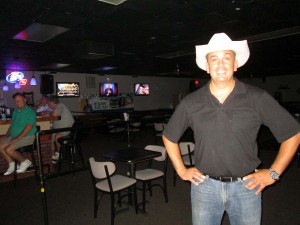 Layton works at the restaurant / bar seven days a week, 12-18 hours a day depending on the day, just to make his business succeed. It's worth noting that the facility is totally accessible with an entranceway ramp, and also offers outdoor dining.  Hours are 4 pm everyday (until football season, then 11 a.m. Saturdays and Sundays) until 3 a.m., unless no one is here after midnight. From the bar, one can order $3 wells 7 days a week. There are menu features each day (Friday's special, for example, is Deep-fried Pollack with real potato chips, $6.99 or with side salad, baked potato and garlic bread, $5.99) and also fun options like satay (chicken or beef) served over rice, pizza, quesadillas (cheese or chicken),  corral burgers, fish, tenderloin or chicken sandwiches and more. Salads include a house salad or a grilled chicken salad with ranch, bleu cheese, honey mustard and Caesar dressings. Just in:  new offerings of T-bone ($12), rib eye ($9), ribs ($12), blackened Pollack ($8) and a breaded tenderloin dinner for $9. So, throw on your spurs and chaps and gallop on over to Captain Ron's Corral (260-478-0591; 4530 Bluffton Road) and tell him I sent you!  Yeehaw!