When I was a Fort Wayne, Indiana newbie, certain restaurants kept coming up as favorites from my new co-workers: Henry's Restaurant, a bar downtown; J.K. O'Donnell's, an Irish bar downtown; and Club Soda, an upscale steakhouse with a killer martini menu downtown (you may notice a theme …)
That was a decade ago, and I've developed my own must-visit spots and must-try menu items (including the three listed above). For anyone new to the area or just in town visiting, this is for you.
Can't-Miss Fort Wayne, Indiana Restaurants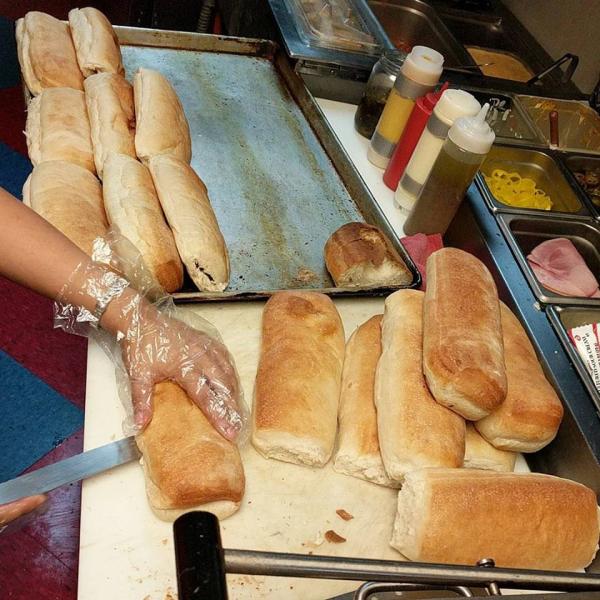 Caliente makes its bread fresh for all its sandwiches, including the Cubano.
Sandwich most likely to make you drool: The Cubano at Caliente
120 W. Wayne St.
Owners Gus and Yalili Rodriguez hale from Villa Clara, Cuba (he's a political refugee—check out his story, it's fascinating). Caliente offers a variety of menu options, but the Cubano is, simply, perfección. From the menu: Roasted pork, ham, swiss cheese, pickles, onions, mustard. It's served grilled, crusty like a panini. Don't forget to bring a friend: the sandwich is so huge, you'll want to share it.
Fish most likely to make you want more: Cat bites at Henry's Restaurant
536 W. Main St.
Technically an appetizer, the cat bites at Henry's are worth a special visit. Take a bite and get a mouthful of catfish—the cuts are generous. Breaded in cornmeal, they pack extra crunch, too.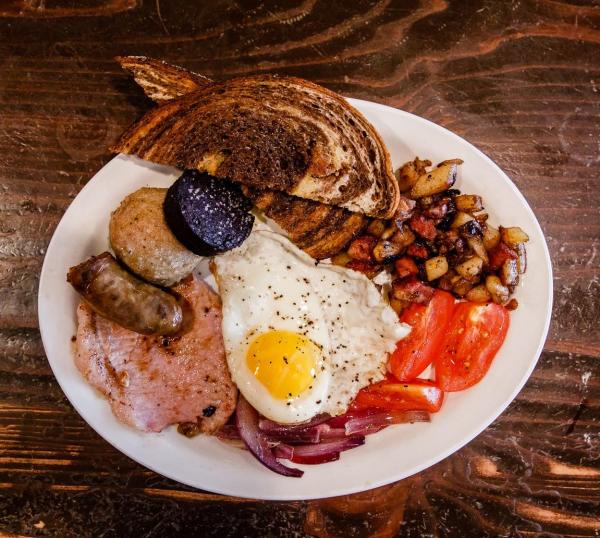 The Irish breakfast at J.K. O'Donnell's is available from 11 a.m. to 2 p.m. Fridays and Saturdays.
Brunch most likely to make you wish every day was Saturday: The Irish breakfast at J.K. O'Donnell's
121 W. Wayne St.
Over the last few years, Fort Wayne has decided that It. Loves. Brunch. Not half the current options existed five years ago, but the best is still at J.K.'s, which has been around for more than a decade. From the menu: Fried egg, rasher, half banger, black and white blood pudding, corned beef hash and your choice of toast. Only available Friday and Saturday 11-2pm. An ordering tip: This meal is rich. If you ask the kitchen to cut back on the oil used to cook, it will—and the flavor won't suffer at all. If you're not having a cocktail with brunch, get the unsweetened iced tea; it's the most flavorful in town.
Mexican meal most likely to make you dream about dinner: Chicken enchiladas at La Margarita
2713 S. Calhoun St.
Fort Wayne is full of Mexican restaurants, and my favorite is La Margarita, one of the city's few Tex-Mex options. The reason? Its mole sauce: It's dark, it's rich, it's drinkable. Smothered over chicken enchiladas coated in melty cheese, it's exactly what you want when you're craving Mexican comfort food. Don't miss the side of rice and, especially, beans, which are so creamy, they can act as another enchilada topping.
Lunch spot most likely to impress: Cork 'N Cleaver
221 E. Washington Center Road
In warmer weather, Cork 'N Clever, a steakhouse whose dinner menu comes printed on an actual and ridiculously heavy dulled cleaver, has a small, secluded patio. In cold weather, ask to sit in the bar; if you're lucky, you'll get right next to the cozy fireplace. The truncated lunch menu includes one of Fort Wayne's favorite salad bars (complete with anchovies, caviar, and jelly beans). But if you're a fish lover, skip the salad bar and get the tuna wasabi for the best tuna in town. From the menu: Sashimi tuna pressed in black and white sesame seeds, seared rare. It's served with a wasabi drizzle and kimchi, plus your choice of side. I dig the seasonal fruit.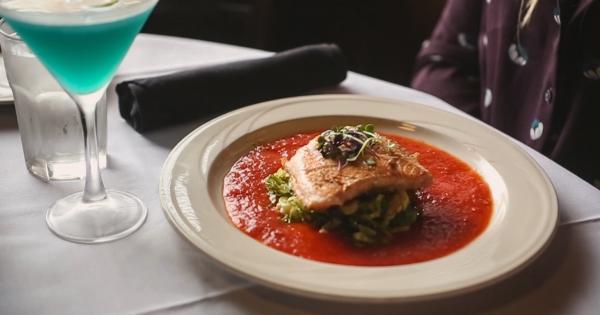 Date spot most likely to end in a thank you kiss: The Oyster Bar
1830 S. Calhoun St.
One of Fort Wayne's oldest restaurants, The Oyster Bar is so tiny, a third of the seating is in the back. To get to it, you have to walk through the smallest kitchen you've ever seen. But the chefs work magic in there. Anything on the menu is a win, from the oyster stew and the chilled jumbo shrimp cocktail to the oysters on the half shell and cioppino. Sure, there's red meat on the menu, too, but at a place called The Oyster Bar, stick with seafood. To add to the date-night ambiance, the lights are dim, the crowded dining room feels secluded, and the staff is one of the friendliest in town.
Outdoor dining option most likely to make you long for warmer nights: The upstairs patio at Club Soda
235 E. Superior St.
Club Soda alone offers two outdoor dining areas: an enclosed patio with both traditional seating and cushioned chairs around fire pits, and a roof patio. If there's room, go upstairs and plan to stay awhile; the ambiance is half the fun, and a three-hour Club Soda dinner means you've done it right. The whole menu is tasty, but I'd argue they have the best filet in town (check out the photo, provided, at the top of this post). If you're looking at appetizers, Fort Wayne swears by the smoked gouda dip. From the menu: We could actually start a restaurant that didn't serve anything but this. If you've had it you know what we mean. If you haven't, order it and find out. With Judy's flatbread. Or go gluten-free with fresh veggies. If you're into cigars, ask about its cigar menu, too.