Are you an inventor? Are you a crafter? Are you someone who just happened to find a way to create a useful household item using only recycled material or build the next remote control car? Then the Fort Wayne Regional Maker Faire might just be the place for you! The 2ndannual FWR Maker Faire - powered by TekVenture - will be held at Headwaters Park under the Lincoln Pavilion on October 6-7, 2012.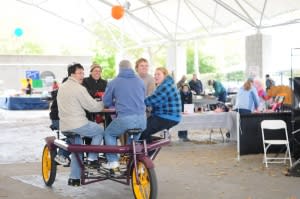 At this point you might be saying to yourself, I have created some cool things, but how do I know if it is right for the Maker Faire? Here is your answer. FWR Maker Faire is looking for: Robotics, Green Tech (energy production/monitoring, electric vehicles, etc), recycled or upcycled projects, DIY Science, participatory activities (e.g., participatory activities such as silk screening or last year's learn to solder, "Make and Takes"), student projects, radio, rocketry/ballooning, unusual tools and machines, whimsical technical creations, and more! There is no cost to show your creations at the Maker Faire, unless you plan to sell your goods to the public. If you do plan to sell your creations, there is a $100 fee.
If you are not an inventor, crafter, or creator, you can still attend the FWR Maker Faire! There is an entry fee, but you can purchase your tickets in advance or at the door. You can volunteer to help plan the Faire, set-up on Friday October 5th, work during one of the Faire days, or tear down of Sunday evening. If you volunteer, you will get a T-shirt and free admission.
YOU CAN ALSO WIN TICKETS! Simply click here to enter to win!
It is sure to be a great weekend filled with fun and unique creations. So come out to Headwaters Park on Saturday October 6th from 10 am – 6 pm, or Sunday October 7th from 11 am – 6 pm.
For more information, visit the Fort Wayne Regional Maker Faire website.