Looking for that obscure record, or maybe a specialty T-shirt? Look no further than a few of Calhoun Street's locally owned businesses! There is something about a vinyl record that has stood the test of time. Neat Neat Neat Records & Music, located at 1836 S. Calhoun St., caters to consumers who have a knack for nostalgia and the obscure. The name in and of itself is a testament to this concept. "Neat Neat Neat" is a reference to an album by the punk band The Damned.

Open since March 1, 2011, the record store carries a variety of albums and genres-"hard to find stuff," as owner Morrison Agen puts it.  Neat Neat Neat Records & Music serves customers with an eclectic mix of 6,000 records and 10,000 45s.  Morrison buys,  sells and trades music, everything from jazz, to blues to country to punk. Morrison is also community minded, regularly sponsoring local shows and events. Check out their Facebook page for a schedule. Art and clothing intersect at Conspiracy, a street wear boutique and art gallery, located at 1934 S. Calhoun St., not far from the record store. Owners/brothers Jake and Jes Ferris describe their style as "SoCal" and it shows in the merchandise.  (Think over-sized tees, wide-rimmed caps and hip-hop style sneakers.) The owners wanted to add some pizzazz to the store's bare walls, so they decided to add another dimension to the store: an art galley. Over the past year the store/studio has featured works of local artists. Check out their Facebook page for notices of opening shows. Store hours are Noon to 8 p.m. Mon.-Sat.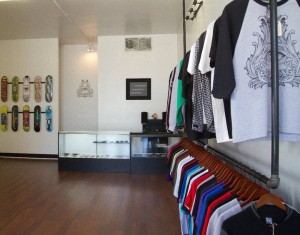 These are just a few ways to support local business in one of Fort Wayne's unique neighborhoods.  There are many others. Stayed tuned for details!