Can you spell A G-O-O-D T-I-M-E? The 25th Annual Putnam County Spelling Bee at the Fort Wayne Civic Theatre is sure to provide one! This hilarious tale displays an eclectic group of six mid-pubescents vying for the spelling championship of a lifetime. While candidly disclosing hilarious and touching stories from their home life, the tweens spell their way through a series of [potentially made-up] words hoping to never hear the soul-crushing, pout-inducing, life un-affirming "ding" of the bell that signals a spelling mistake.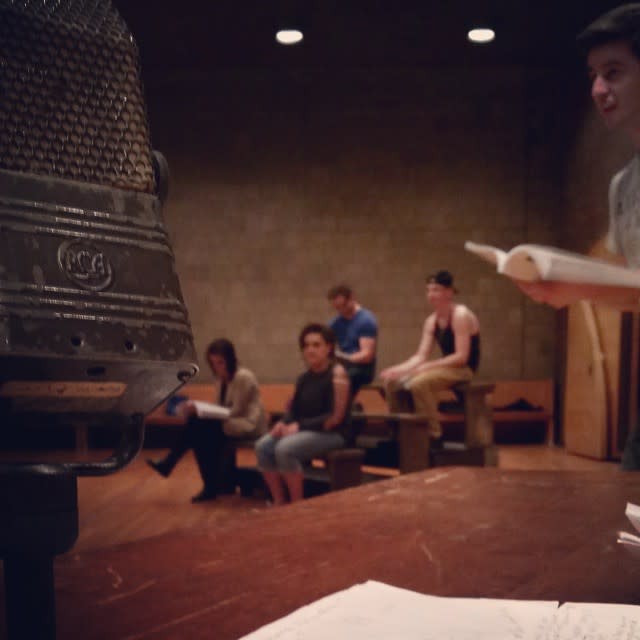 You're bound to recognize a few individuals from this star-studded cast: Emilie Henry, Reuben Albaugh, Megan Meyer. Meyer returns to the Arts United stage after last portraying Fraulein Kost/Fritzie in "Cabaret" and Princess Fiona in "Shrek." In "Spelling Bee," she takes on the role of Logainne Schwartzandgrubenierre, the youngest and most politically aware speller, with two overbearing gay fathers and a lisp. If you've never had the opportunity to hear Ms. Meyer's voice, you're sure to be blown away by her rendition of "Woe Is Me."
For this quirky yet charming cast of outsiders, a spelling bee is the one place where they can stand out and fit in at the same time. Six young people, overseen by grown-ups who barely managed to escape childhood themselves, learn that winning isn't everything and that losing doesn't necessarily make you a loser.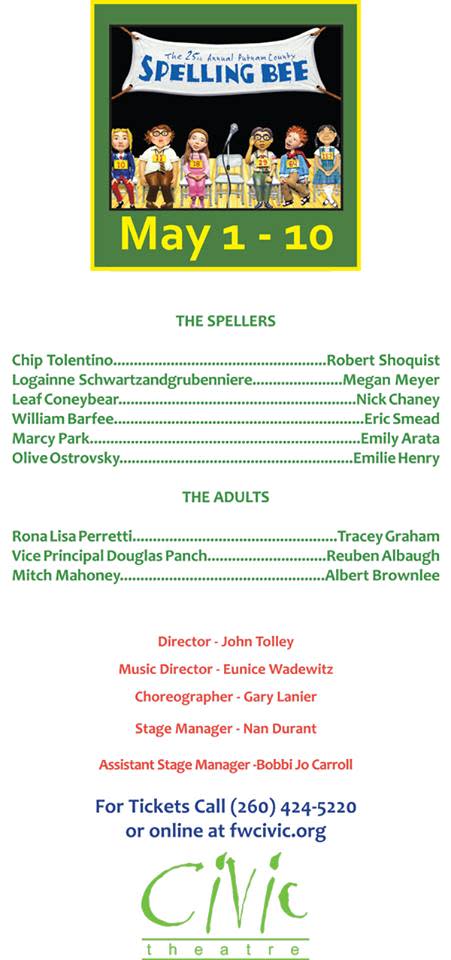 Oh, did I mention that there's an audience participation component of this show? Four real audience members are invited on stage to compete in the spelling bee alongside the six young characters. If you're selected, don't be nervous, Julie Andrews missed "supercalifragilisticexpialidocious" (spell-check, please!) when she was a guest speller on KIDS Night on Broadway in 2007! There are additional components of interaction, but I won't spoil the fun for you! 
Six spellers enter; one speller leaves a champion! At least the losers get a juice box. 
Performance Dates:     Friday, May 1 8:00 PM
                              Saturday, May 2 2:00 PM
                              Saturday, May 2 8:00 PM
                              Sunday, May 3 2:00 PM
                              Friday, May 8 8:00 PM
                              Saturday, May 9 2:00 PM
                              Saturday, May 9 8:00 PM
                              Sunday, May 10 2:00 PM 
You can get your tickets by calling the ArtsTix Community Box Office at 260-422-4226 or by visit their website, linked here.
*Despite the fact that this musical features many loveable "children," it is not recommended for children of your own, due to frequent mild adult language and humorously-dealt-with topics of sexuality.&nbs