Update: For information on this year's event, visit our Festivals page.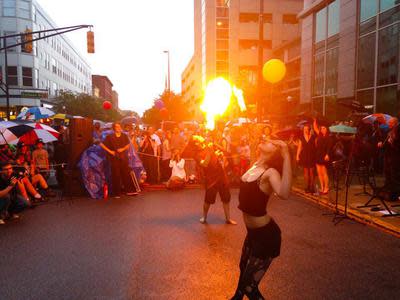 It's that time of year again, and BuskerFest is back for the sixth year in a row. On June 27th, Fort Wayne will once again close down the corner of Wayne and Calhoun Streets downtown and host a variety of different buskers.
The term "busking" first appeared in the English language around the 1860s in Great Britain. Buskers have been around for almost as long as people have, and public performances date all the way back to antiquity. While the buskers you will see June 27th haven't been around quite as long, Fort Wayne does have a rich tradition of street performance.
The annual BuskerFest, sponsored by the Downtown Improvement District, is designed to honor the art of street performance and to welcome and celebrate the unexpected. This year's line-up is a mix of different arts from new and seasoned performers. Performers will include, street drummers, living statues, chalk artists, guitarists, aerialists, fire breathers, magicians, jugglers, mimes, and more. And, in the spirit of spontaneity, in addition to the scheduled performances throughout the night by professional buskers from T.A.G. Art and Joy Unspeakable, there will also be unplanned performances that will certainly highlight the creativity and originality of buskers from the region.
BuskerFest 2015 will kick off at 4:00 pm and last through the night until 11:00 pm. This is a great opportunity to enjoy the weather and do something a little bit different. A number of local food trucks will be serving up some awesome Fort Wayne fare, and JK O'Donnell's will have a beer tent set up along Wayne Street for those 21 and over. So, come downtown, and see if you can stumble into a little everyday magic with BuskerFest 2015. Don't forget to Tweet about your experience using #BuskerFestFW and tag Visit Fort Wayne in your posts to share your awesome experiences with us!