It was dazzling visual feast: a hula-hooping dancer in red sequins and fringe; a juggling circus acrobat, a trio of mimes vying for attention in the middle of Calhoun Street, a young woman swinging effortlessly on a trapeze in front of a parking garage and dozens of musicians showcasing their various talents.
Welcome to Fort Wayne, Indiana's annual Buskerfest.
Enjoy a Summer Weekend in Fort Wayne, Indiana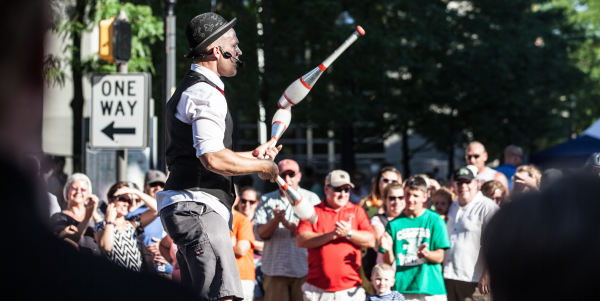 A Day at Buskerfest in Fort Wayne, Indiana
Buskerfest is a free event held in the heart of downtown, drawing thousands of spectators as well as local, regional and national buskers.
Busking is the act of performing in public places for gratuities and buskers are also known as street performers, according to Merriam-Webster.
The Buskerfest Experience
Approaching the festival, I walked toward the intersection of Wayne and Calhoun, where a large crowd was watching an acrobatic juggler called Cate Great. I passed an accordion player, a hula-hoop dancer, a lone musician strumming a guitar, a clown juggler known as Indiana Joe, a blue-haired clarinet player and a barefoot man strumming a ukulele who had me baffled.
Just in case, I put a dollar in his hat.
When I got to the intersection, juggler and acrobat Cate Great was balancing on a table, standing on a small board atop a tower of precariously tilted canisters holding two large knives in each hand.
According to her website, Great is a 17-year veteran of circus stage and street and has performed in 11 different countries.
Great used onlookers to help with her act and chose a man named Tyler to assist her, using witty one-liners to turn their 15-minute busker encounter into a failed romantic relationship. The crowd loved it and laughed when she told Tyler, "Come back. I have not forgotten you," or "Just go. Walk away and leave me now." At one point, she also drafted a young girl to help and turned to Tyler, who was back in the audience.
"Don't worry, it's not your child," Great said, drawing laughter and applause.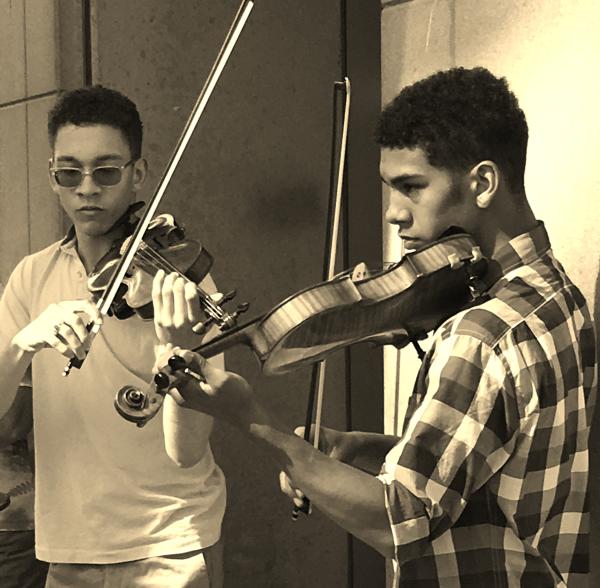 At a nearby downtown plaza, people danced, vendors sold their wares while brave professional and amateur buskers sang and played instruments as visitors sat and ate local cuisine from nearby food stands, trucks and restaurants.
A nimble, dark-haired aerialist swung gracefully from a trapeze set up above a nearby sidewalk. At the end of the street, a three-piece band entertained while a juggler, accompanied by his dog, threw bowling pins in the air. Just past the aerialist, two somber-faced young men played violins and "Alayna and Maria" played the ukulele and a cello.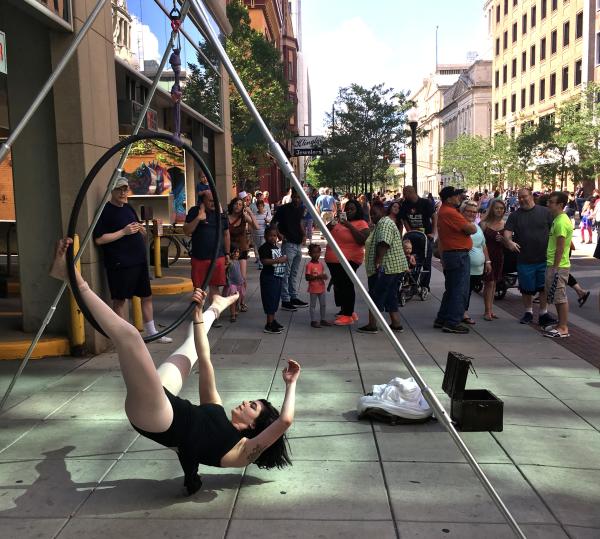 I took a front-row curb seat to watch "Derek Derek," a pole-climbing clown, juggler and acrobat from Texas who began juggling at the age of seven. According to the Derek Derek website, he has performed in dozens of countries around the world.
He used adults and children from the crowd as participants with hilarious results. I did take note that he blew a shrill whistle and used frantic pantomimes to indicate his disappointment with anyone who tried to leave his act early. I glanced at my watch. Yikes! I had to walk ten blocks to the Arena Theater on Rockhill Street. Otherwise, I would have stayed until Bunkerfest shut down – it was that much fun.  
I waited until Derek Derek was busy trying to line up a pole climbing feat with four men from the audience and quickly got up, crouched low and made my getaway.
As I headed west on Wayne Street, I heard Derek Derek's shrill whistle behind me.
I walked faster and did not turn around.
Buskerfest
Saturday, June 30
4:00 to 10:00 PM
Wayne & Calhoun Streets in Downtown Fort Wayne
FREE