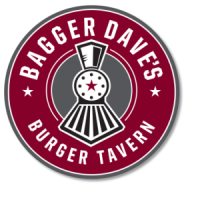 As a kid, I was a big fan of the "Choose Your Own Adventure" books. No more did I have to sit passively and read about someone else's exploits. No more did I have to let the hero, well, be the hero. If I wanted to go into the haunted cave, gosh darn it, I did. Sure, when I got to page 46 I probably died, but at least it was my decision.
New-to-Fort-Wayne "burger tavern" Bagger Dave's, located on Dupont Road, is kind of like a hamburger version of Choose Your Own Adventure. As you can probably guess, I think that's awesome. (And they have a tiny train that treks around the restaurant. Sold!) Bagger Dave's is all about choice. Yes, they do have a menu of burgers (both beef and turkey, both delicious) and other sandwiches, but it's the ability to create your own from the bun up that appeals most to me.
You fill out a sheet at the table with your selections, then the server inputs your burger ingredient by ingredient into an electronic order pad. Hi-tech, huh? In addition, there are quite a few sides from which to choose. From experience I can tell you their fries and mac 'n' cheese (which also works as a meal) are both quite tasty. Also of note, they make their own soda – no Coke or Pepsi products here. I drink diet soda, and their diet soda is good (it reminds me of RC Cola).
Did I mention the tiny train? I did? Well, it bears repeating. Looking for a new spin on the classic hamburger? Check out Bagger Dave's at 2886 East Dupont Road, Fort Wayne, IN 46825. Visit their website at www.baggerdaves.com.