Black Friday is over.  Cyber Monday has passed.  That means if you're still shopping for gifts, you may be running low on cash.  If you've noticed that some of those names on your list tend to be your nerdier friends and family, I've done some digging to find some really cool ideas that will brighten their holidays and keep your wallet from feeling like Han Solo trapped in Carbonite. Sorry, I may have gone too far with that reference.  That just means you'll relieve the stress on your finances if you follow these tips: Comic Books This one's a no-brainer.  Most single-issues of current comics (including DC's popular "New 52" series) go for around $3.99 and comic-lovers are always excited to read a new book.  Grab a few issues (slipped inside comic bags with cardboard backing, of course) to make your nerdy loved one happy.  You can find the latest issues (bagged and boarded) at locations like Clem's Collectibles in Jefferson Pointe, Books, Comics and Things at Time Corners, and Discount Comic Book Service in the Pine Valley Shopping Center. Figurines Action figures are my personal weakness and many nerds like me also love these toys.  Yes, I admit it.  They're toys.  But in the hands of an avid collector, the right action figures will be treated as museum pieces.  They're preserved, displayed, and even given special lighting in some cases.  You can find a wide range of action figures in the big toy stores as well as your favorite comic book stores, but you might find the $10+ price tags a bit prohibitive.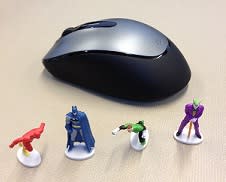 That's where figurines may help you out.  With comic books continuing to be extremely popular, toy companies are producing new (and inexpensive) products to help satiate the superhero action figure-obsessed.  For example, you can find mini versions of your favorite DC and Marvel characters  in the Heroics toy line.  They're sold in small ping-pong ball sized orbs that pop open to reveal a mystery hero (or villain).  As you can see in the picture, they're super small, but a lot of fun to collect (unless you end up with a bunch of Aquaman figures), and they're only about a buck each!  How's that for a budget-friendly gift?  Five of these will only cost you one Abe Lincoln and some change, and the nerds in your life will think you're the coolest!  Plus, you'll have the fun of watching them discover which mystery characters they receive.  You can find mini toys like Heroics at most toy stores and at local stores like Clem's (but you may want to pick up a gift card too, just in case you have an Aquaman incident).
Storage
Computer nerds deserve some holiday cheer too.  Actually, anyone who uses a computer would love to get some extra media storage under the tree.  With the prices of hard drives continuing to drop, you can get some really great deals on decent-sized flash drives and SD cards.
Not sure what I'm talking about?  It's okay.  Just go to your favorite computer store or electronics warehouse (A+ Computers, Best Buy, etc.) and find one of their experts.  Ask for "flash drives and SD cards" and they'll point you in the right direction. Here's the quick and dirty explanation.  These are devices that can be used to store large files like music, photos and videos, and nerds are always able to use them.  Like I said, the prices are extremely reasonable and you can easily find a quality drive or card for less than ten dollars.  They don't look like the fanciest gifts ever, but put them in some Santa wrapping paper and throw a bow on top if it makes you feel better.  I can practically guarantee that your present will be appreciated. There's plenty of cool stuff out there that you can still pick up for your favorite nerds, and I hope I've given you some ideas that will warm the hearts of even the grinchiest geeks while saving you a few bucks in the process. Happy Nerdy Holidays!