"Broadway is a definite symbol of New york. It's classic New York,"  -Katharine McPhee

Thanks to the Embassy Theatre, Broadway returns as a symbol of Fort Wayne too. Broadway at the Embassy has announced its 2013-2014 season with subscriptions on sale now! What's a subscription? A subscription is offered in four, five, or six show packages guaranteeing you great seats to all of the shows and a chance to renew your seats each year. There are additional discounts available as well. This year's season promises classics, modern favorites, The King,  a Disney princess, rock opera, and even a little  "adult content".  Check out this year's schedule and the brief descriptions provided by Jam Theatricals.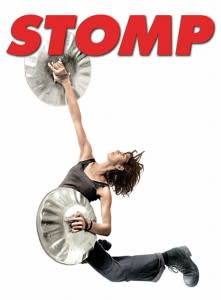 STOMP Tuesday, October 1, 2013 7:30 pm, Wednesday, October 2, 2013 also at 7:30 pm STOMP is explosive, provocative, sophisticated, sexy, utterly unique and appeals to audiences of all ages. The return of the percussive hit also brings some new surprises, with some sections of the show now updated and restructured and the addition of two new full-scale routines, utilizing props like tractor tire inner tubes and paint cans. STOMP. See what all the noise is about. Hello, Dolly! Starring Sally Struthers Sunday, November 3, 2013 at 7:00 pm Winner of 10 Tony Awards including Best Musical, HELLO, DOLLY! is one of the most enduring Broadway classics. Emmy Award- winning Sally Struthers (All In the Family, Gilmore Girls) stars as the strong-willed matchmaker Dolly, as she travels to Yonkers, NY to find a match for the ornery "well-known unmarried half-a-millionaire" Horace Vandergelder. Featuring an irresistible story and an unforgettable score including the title song, "Put on Your Sunday Clothes," "It Only Takes A Moment," and the show-stopping "Before the Parade Passes By", HELLO, DOLLY! has been charming audiences around the world for nearly 50 years.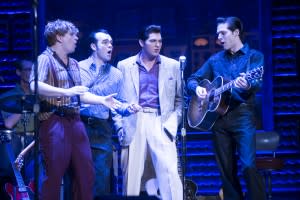 Elvis Lives Thursday January 9, 2014 at 7:30 pm ELVIS LIVES is an unforgettable multimedia and live musical journey across Elvis' life. His iconic style, embraced by many of today's artists, continues to intrigue audiences of all generations. Featuring finalists from Elvis Presley Enterprises' worldwide Ultimate Elvis Tribute Artist Contest, as well as a tribute to Ann-Margret, audiences "Can't Help Falling In Love"® with this phenomenal theatrical concert experience. Million Dollar Quarter Monday, January 27, 2014 at 7:30 pm MILLION DOLLAR QUARTET is the Tony Award winning Broadway musical, inspired by the electrifying true story of the famed recording session where Sam Phillips, the "Father of Rock 'n' Roll," brought together icons Elvis Presley, Johnny Cash, Jerry Lee Lewis and Carl Perkins for one unforgettable night.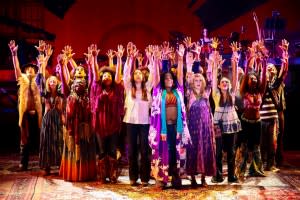 Hair Tuesday, March 11, 2014 at 7:30 pm The Public Theater's new Tony Award®-winning production of HAIR is an electric celebration on stage! This exuberant musical about a group of young Americans searching for peace and love in a turbulent time has struck a resonant chord with audiences young and old. HAIR features an extraordinary cast and unforgettable songs, including "Aquarius," "Let the Sun Shine In," "Good Morning, Starshine" and "Easy To Be Hard." Its relevance is UNDENIABLE. Its energy is UNBRIDLED. Its truth is UNWAVERING. It's HAIR, and IT'S TIME. PLEASE NOTE: For Mature Audiences. While many find this show suitable for young adults (13 and older), parental discretion is advised. There is a dimly lit 20-second scene with nudity that is non-sexual in nature. Disney's Beauty and the Beast Monday, March 31, 2014 at 7:30 pm Disney's BEAUTY AND THE BEAST, the smash hit Broadway musical, is coming to Fort Wayne! Based on the Academy Award-winning animated feature film, this eye-popping spectacle has won the hearts of over 35 million people worldwide. This classic musical love story is filled with unforgettable characters, lavish sets and costumes, and dazzling production numbers including "Be Our Guest" and the beloved title song. Experience the romance and enchantment of Disney's BEAUTY AND THE BEAST at the Embassy!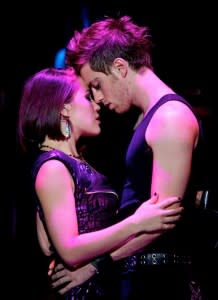 American Idiot Tuesday, April 22, 2014 at 7:30 pm The New York Times calls AMERICAN IDIOT "thrilling and emotionally charged, as moving as anything on Broadway!" Based on Green Day's groundbreaking rock opera of the same name, this daring new musical tells the story of three lifelong friends, forced to choose between their dreams and the safety of suburbia, and features the smash hits "Boulevard of Broken Dreams," "Holiday" and "21 Guns." PLEASE NOTE: AMERICAN IDIOT CONTAINS ADULT CONTENT AND STRONG LANGUAGE.