When I think of Broadway I think of the classics. Hello, Dolly!, Bye Bye Birdy, The Music Man and Guys and Dolls instantly come to mind when I picture the "The Great White Way". So I mean it when I say that you are in for a treat when Guys and Dolls comes to the Embassy Theatre on Wednesday, March 25th!

I was a show choir kid in high school, which means that I was around a TON of musical theater. It was pretty much expected of you to have some kind of knowledge of musicals and be able to sing at least one song from all of the popular ones. It seemed everyone was obsessed with Guys and Dolls, and once you see a live performance of this beloved musical I'm sure you will be too!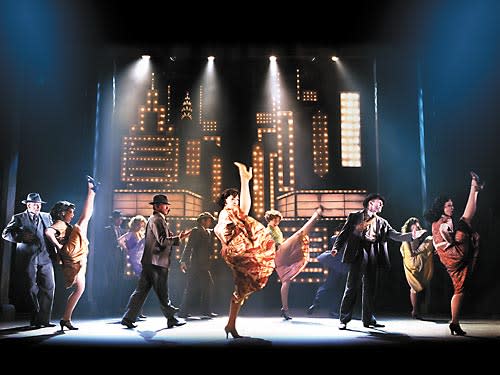 Guys and Dolls is considered by many to be the perfect romantic comedy. It has love, laughter and killer song and dance numbers that will pull you in to Damon Runyon's tale of the goings on in mythical New York City. You'll meet a whole group of rag-tag characters who don't seem to go together at first, but completely come together in the most perfect way. There's Sarah Brown, who is a bit uptight and is trying to turnaround the wrongdoers of Times Square. Sky Masterson will charm you with his smooth talking sensibilities. You'll be dazzled by Adelaide's nightclub performances. Nathan Detroit will infuriate and allure you as Adelaide's fiancé of 14 years. You'll fall in love with this cast of characters, and the songs that carry them through the production. One of my favorite songs from Guys and Dolls is "Bushel and a Peck" sung to perfection by Miss Adelaide and the Hot Box Chicks!

If you're not already convinced to sashay to Broadway (at the Embassy), perhaps the chance to WIN tickets will sweeten the pot? You can enter to win two tickets to the show, an overnight stay at the Courtyard by Marriott, a $10 gift card to DeBrand Fine Chocolates, and much more!

Guys and Dolls will be performed on the Embassy Theatre Stage March 25th as part of Broadway at the Embassy. Tickets are still available and can be purchased in person at the Embassy box office, or online through Ticketmaster. For more information check out Visit Fort Wayne!<