Quiz: What American music group did The Beatles borrow from as the model for their name? Answer will be provided at the end of this post. Keep reading! ** The Brits are coming! It's a British invasion! OK, it's not British soldiers. It's BritBeat, a Beatles musical tribute band!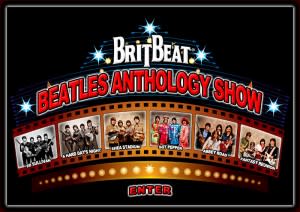 Just in case you're wondering, the term 
British Invasion
 was coined by TV reporter Walter Cronkite to describe the Beatles' arrival in the United States in 1964. Their public appearances soon led to Beatlemania in the U.S. The
British Invasion
 continued during the next two years as Petula Clark, Herman's Hermits, the Rolling Stones, The Dave Clark Five and others had one or more Number One singles in America. Even if BritBeat's music was not impressive, this group would get an A+ from me for their bodacious attempts to recreate the sights, mannerisms, accents, costumes and sounds of the greatest rock 'n' roll group of all time. Between 1963 and 1970 the Beatles released 22 singles and 12 LPs, many of which became Number Ones:  "Can't Buy Me Love" (1964), "Yesterday" (1965), "Paperback Writer" (1966), "Hello, Goodbye" (1967), "Hey, Jude" (1968), "Let It Be" (1970). Being a loyal follower of The Beatles' music, I have to admit the musical selections heard from BritBeat on a short vid at
www.Reverbnation.com
sounded pretty good. They played songs from The Beatles' early years around 1964 through Sgt. Pepper's Lonely Hearts Club Band and Abbey Road. I even heard some Paul McCartney and Wings tunes. BritBeat will appear at the Foellinger Theatre onSaturday, June 30 at 8:00 p.m. Tickets cost $12.00. For more information contact Fort Wayne Parks & Recreation, 705 East State Blvd, Fort Wayne, IN 46805; 260.427.6000;
www.fortwayneparks.org
.   Answer: After a series of names for their group including "Johnny and the Moondogs" and "The Silver Beetles", Paul McCartney and his fellow musicians chose "The Beatles" in mid-August 1960. They modeled their name after the American group Buddy Holly and the Crickets.