Brides to Be: Mark your calendar! The Bridal Spectacular is coming to the
Allen County War Memorial Coliseum
on Sunday, September 30th, from noon to 4 p.m.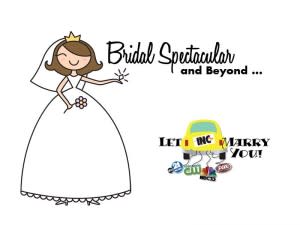 The Bridal Spectacular is known as a one-stop shop to plan your wedding in one day. I began my wedding planning process with a trip to the show just so that I could get an idea of what different vendors had to offer. I walked around collecting business cards and brochures for caterers, florists, limo rentals and photographers. I didn't plan my wedding in one day, but it gave me a pretty good starting point as to what I was actually looking for as a bride. I was able to look at sample bridesmaid dresses and bridal gowns during the fashion show that is put on by some of the local dress shops in town. Make up and jewelry were also featured during the fashion show. There were food samples from various caterers and cake samples from bakeries. Photographers bring their portfolios and albums with samples of wedding photography. I loved this because I was able to compare the different styles of photography in order to narrow down what I wanted in a photographer. DJ's are on sight with sample set ups and playlists. One DJ had a pre-printed list of a typical reception and examples of songs that might be used for specific events during the reception. For me, anything that could simplify the planning was exactly what I was looking for. Travel agents are available with brochures on destination weddings to traditional honeymoons. One thing that I never realized was that you can actually register for your honeymoon. The basic premise is the same as registering for gifts, but rather than asking for typical gifts, your guests purchase pieces of your honeymoon, whether it is an excursion or a spa day or just putting money toward the total amount. I had never heard of this until I was planning my wedding and honeymoon, but it made really great sense for my future husband to be and myself, because we had accumulated most everything that we already needed. Why hadn't I discovered this sooner?!?! All these vendors (and more) under one roof:
Affordable Photography Group
Island Photo Booths
Mirage Banquet Hall
The Landmark Centre
Club Car Limousine
Nelson's Catering
Dr. Feelgoods Inc.
Goegleins Catering
A Party Apart
K & S Travel
MegaSound
Quattro Systems
4Ever Photography & Design
The Bride to Be
Totally Inclusive Travel
The Red Stiletto
Mutton Rental Center
The Bridal Spectacular
is definitely a must for planning the perfect wedding day. I'm obviously not a wedding planner or an expert by any means, but I know from experience that wedding planning can be overwhelming. So, over the coming weeks, I will be sharing some of my favorites from caterers and DJ's to photographers and florists. And, for brides on a budget, I'll share some of my tips for helping to keep your expenses low! Happy Wedding Planning!