Such a simple design - rectangular interlocking blocks in bright primary colors - revolutionized the way many children played. The LEGO quickly became a staple of childhood and now we can't imagine growing up without them. LEGOs are not just for kids anymore, though. People of all ages will come out at this year's
Brickworld
to celebrate the art of LEGO creation.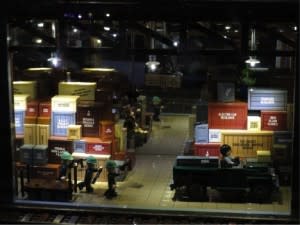 On October 11 and 12, the LEGO convention will come to Fort Wayne again for the fourth year in a row. This premiere LEGO expo will be bringing in some of its best displays as well as vendors who will have LEGO sets, minifigures, and accessories available for purchase. Come out to enjoy the company of other LEGO enthusiasts as well as interactive games. Brickworld began as just one event in 2007 and now holds 4 events each year across the nation. This one of a kind expo is a great place for people to come together, share their knowledge, create, and learn more about the art of LEGO building. The event will be held at teh Grand Wayne Center in the heart of Fort Wayne's downtown. Make sure while you are there to stop by some of the great local restaurants for a bite, check out Parkview Field, and maybe even ride around to the see the different sculptural bike racks posted up around the city! Brickworld kicks off from 10 am - 6 pm on Saturday, October 11 and 10 am - 4 pm on Sunday, October 12. Tickets are available
online
for $8.50, or at the door the day of the event. Be sure to check out
Brickworld's official website
, and bring the whole family out to see some mind-blowing LEGO creations in an afternoon they will never forget!
And, you can WIN TICKETS here!