It doesn't get more American than this! Brava's Food Inc. serves up hot dogs from a mobile unit. The locally-owned business is now in its second year and is gaining notoriety for its street-vendor fare. So, what is the "fare?" Brava's features all-beef hot dogs, with toppings like fresh chopped veggies (tomato, cucumber, pico de gallo, guacamole, etc) as well as homemade chili. Be sure to try their specialty: a super-secret Brava Sauce. Thick cut Ossian bacon also comes on some of the hot dogs. They say location is everything. As of right now the mobile unit stays at the intersection of Calhoun and Wayne Streets (across from Jimmy John's on the One Summit Square plaza). The owner, Bo Gonzalez, has plans to beginning selling at Columbia Street West for the bar scene on Columbia & Harrison. Hours for lunch are usually 11am-2pm. Bar location hours are from Midnight-4am.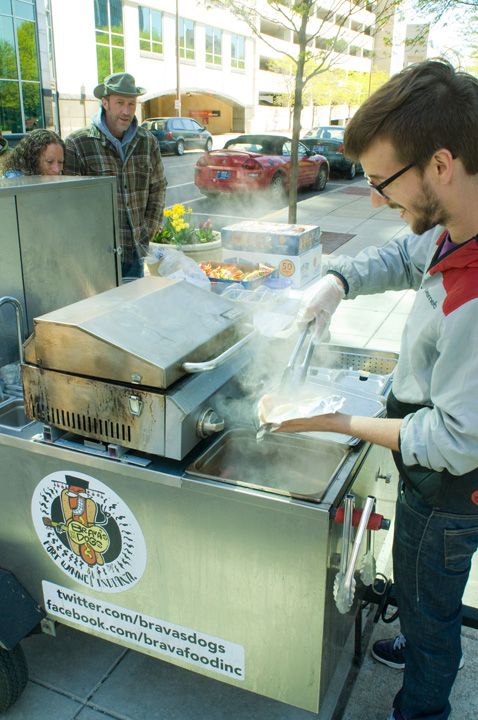 Visitors might be curious about the origin of the business' name. Gonzalez credits his mother for the namesake. Their favorite Spanish tapa was Patatas Bravas, which had a spicy smokey sauce that makes it.  In addition to the name, the owner says his niche lies in the gourmet toppings that adorn the hot dogs. The Brava Sauce and chili are made with two spices imported from Spain. All veggies are fresh cut every morning, along with the guacamole. Check out their Hawaiian hot dogs, Bacon Slaw Dogs, Cheddar Fondue Dogs, and many other ones. Gonzalez is proud to share that his business will expand with a food truck this June. In the meantime, check out their
Facebook
and
Twitter
accounts for updates.