Here's how day #2 of summer vacation starts at my house…"
Mom, I'm so bored, there's NOTHING to do
!"  This whining, accompanied with 95 degree weather outside, means that we are ready to get out of the house, but still be in the AC. Lutheran Health SportsCenter's
Bounce Mania
(located at 3869 Ice Way Drive) - here we come!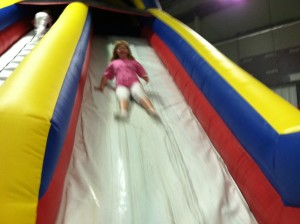 Bounce Mania is located in the Lutheran Health SportsCenter's ice facility. They put a surface over one of their three rinks and top it with about ten bounce houses, bounce obstacle courses and bounce slides. They have small and large options to accommodate all ages. (My personal favorite is the obstacle course with the slide at the end, and my goal is to beat my 7 year old by the end of this summer!) Bounce Mania hours vary, so be sure to check the
web
 to see when they're open.  Kids ages 2-6 are $3, ages 7 and up are $5. You can also opt for the bounce/skate combo for $10 (which includes free skate rental). While you're there, head upstairs to the Thirsty Penguin - a full service restaurant and bar.  You can get a snack or enjoy dinner with the whole family.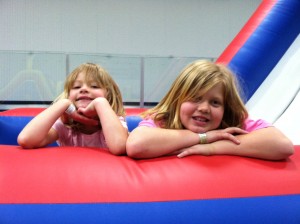 Oh, and here's a piece of advice: dress warm and cover those arms and legs so the kiddos don't end up with "slide burn." (We learned that the hard way.) And hey, let me know if you see me there - I'm up for an obstacle race anytime!