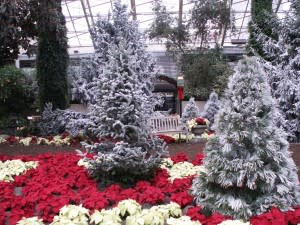 December brings some nippy weather to the Summit City. But one place that is always warm and inviting is the
Botanical Conservatory
on 1100 South Calhoun Street. The second you walk through the doors to the Botanical gardens, you are surrounded by a soft, earthy scent of live plants and trickling water. The atrium to the Conservatory is airy and light, with a fascinating gift shop on one side of the atrium. Ticket prices to see the display rooms of the gardens are quite reasonable - $5 for adults, $3 for children ages 3-17. The three different rooms of plants are always kept in excellent order. During the Christmas season (November 27 – January 7), poinsettias are everywhere! A special display is set up to portray a cozy home with a fireplace, poinsettias, and a Christmas tree. Special, twinkling lights are strung around the walking paths – they add just the right touch of festivity. For those who are familiar with the Botanical Conservatory, the format of each display room is not too greatly altered. There is the room with a waterfall – perfect for strolling and losing your worries about the day. The hanging vines and philodendrons take you to a land almost out of the
Jungle Book
, story. Because the path turns and twists so much, it never feels crowded in the waterfall room – you're walking alone, without too many pedestrians crowding your space.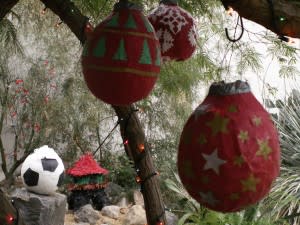 The room with the special Christmas display is also beautifully decorated. The giant poinsettia Christmas tree is always a treat to see – so much red, with that spicy, seasonal scent. On Saturdays, Santa Claus will be visiting the Conservatory, so those with children might want to plan ahead. There is also a Breakfast with Santa, which will be on December 14. A special fee applies for this VIP breakfast for whole families. The final display room of the Conservatory is the desert room. Filled with sand and cactus and other dry-weather plants, this room is usually a tad chilly. But the piñata display warms it right up. Hanging from the wood-pole awning over the walkway are dozens of piñatas, decorated by local volunteer groups. The variety is always fun to see – a giant candy cane, traditional piñata shapes… But this display is only up until December 8. The piñatas are then donated to area community groups. It's always fun to walk into the Botanical Conservatory to experience the magic of well-done gardening. The real joy comes, though, in the winter time when you can look up at the clear ceiling, and see snow gathering – but not touching – a sea of warm, vibrant green. To find out more about the
Botanical Conservatory
and all of its holiday events, or any of the other great HolidayFest activities going on around Fort Wayne, check out
Visit Fort Wayne
!