There is no better way to spend a rainy day than to escape into the pages of a book filled with adventure and drama. Fort Wayne is home to a number of different bookstores, all with their own flavor and a slightly different vibe. We of course have our share of the national chain,
Barnes and Noble
. This is a great place to go if you are looking for somewhere familiar. They also have a great selection of newer books among other fun toys. Check out their wall of unique journals and pick one up to start writing your own novel. Or stop in for some back to school supplies that will be the envy of the class.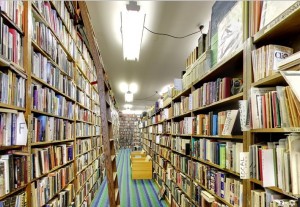 Another great option is 
Half Price Books
. HPB carries books of varying degrees of use; some you would swear are brand new and some have been well read and quite cherished. Recently, though, they have started carrying brand new bestsellers as well, something that costumers said they wanted from this consumer-focused bookstore. Plus, check out their blog for author recommended reads or lists of seasonal must-reads in all genres. Still, I prefer to shop local when I can, and there local bookstores have a special kind of charm all their own. Most of independent stores in town deal in gently used - or read and loved - books. One of the favorite local places is
Hyde Brothers
books at the Wells St. Corridor. It's easy to kill a day just browsing here; books line every wall from floor to ceiling. This sounds overwhelming, but it is well organized and the owners know their way around their books. Walking into the store the smell of books engulfs you. If you look hard enough, you're guaranteed to find a rare book or two, and certainly something extraordinarily unique. A bit less chaotic is
The Bookmark
. In addition to used and new books, they buy and sell textbooks. See what the college kids are reading for class and pick up some of the titles for yourself! The Bookmark has a wide variety of different genres, so there is something for everyone. Make sure to pick up a mug, journal, or planner while you are there too! No matter what you are looking for in a bookstore experience, Fort Wayne has you covered. While you are in town, make sure to check out some of the great local restaurants and shop around at some of our
local stores
or big malls.