Looking for a place to take your four-legged friend to burn off some nervous energy? Look no further than Pawster Park Pooch Playground! Pawster Park Pooch Playground is located in Foster Park West on Winchester Road, just off Bluffton Road. It is a public facility owned and operated by the Fort Wayne Parks and Recreation Department. All dogs (except female dogs in heat) are welcome subject to rules and regulations.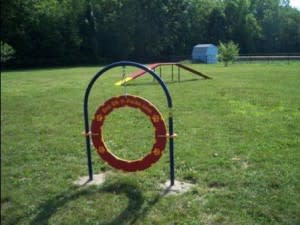 While there, be sure to check out the Dog Agility course, which includes six new canine agility equipment pieces.  These products are specially designed to help dog owners to teach obedience skills, build confidence, and give exercise. There are three separate pieces in each area of the two fenced areas. One area has a set of six weaving poles, a wait table, and a doggy teeter totter. The other area contains a tire jump, a set of five hound hoops, and a dog walk ramp. This new equipment is tough enough for any park setting and will provide fun activities for dogs of all sizes and abilities. The facility is open 6:00 a.m. - 10:00 p.m. daily weather permitting. In order to enjoy Pawster Park Pooch Playground, all dogs are required to have a Pooch Pass. Annual Pooch Passes are $40 per dog, up to three dogs. To obtain your pass, stop by the Parks and Recreation Department Main Office any weekday between 8:00 a.m. and 5:00 p.m. For more information, contact the 
Fort Wayne Parks & Recreation Department
 administrative office
, 
(260) 427-6000.