I read an article in the paper about the Boar's Head and Yule Log Festival at Plymouth Church. I was fascinated to read about the details of the costumes and about the dedication of those who created them, and I decided to head out to attend.
That was over 20 years ago, and still I attend almost every year. The Boar's Head and Yule Log Festival is just that special, just that good.
It has something for everyone. As an Anglophile, I love the period costumes; everything from Beefeaters in red to the medieval king and queen and lords and ladies. Peasants, too. The church itself is a feast for the eyes as well. Gaze up, look around -- there is beauty everywhere here.
As a musician, I'm in awe of the music at the festival. Before the action even starts, I turn to peer into the balcony at the talented singers and musicians, many from local professional groups, who perform pieces by Gustav and Holst, as well as more familiar traditional Christmas fare. 
The history lover in me is pleased with the festival too. The Boar's Head Festival is not unique to Fort Wayne. The original one occurred in 1340 in Queen's College, Oxford, England. A scholar, ambling through the forest on his way to Christmas Mass, was met by a wild boar. The student rammed his philosophy book down the boar's throat, choking him. The festival ensued to honor the "King of bliss."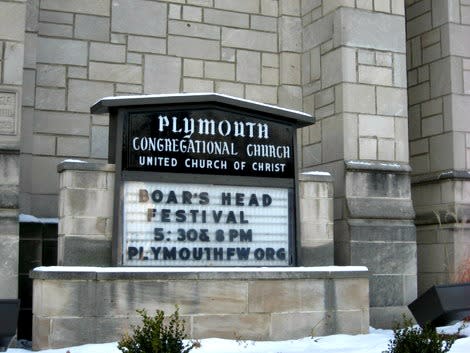 You won't just sit and observe: this festival is interactive. Jesters climb over the church pews (perhaps right by you!), beggars stop by with their cups, soliciting coins, a waif may offer you a cookie, and a lord or lady may even ask you to dance if you're near an aisle. You become part of the story.
The second part of the production is a telling of the Christmas story, with Mary and Joseph entering Bethlehem. Every year, I get goosebumps as I see the beautifully-lit angels dancing and imagine the shepherds' fear as the angel's cry rings through the night. I dare you to not feel moved when the pastor walks down the aisle, through the darkness, at the beginning and end of the festival, carrying a tot with a lighted candle.
If you've never attended this local treasure, why not treat yourself this year? It's an unforgettable way to end the Christmas season.
Boar's Head and Yule Log Festival
Plymouth Church
501 West Berry Street
Dec. 28, 29, 30
5:30 and 8:00 each night
church phone: 423-9424
Tickets FREE on box office day (Dec. 17, 4:30-7 p.m.)
Line up on this day to claim up to 6 free tickets per family.
 <