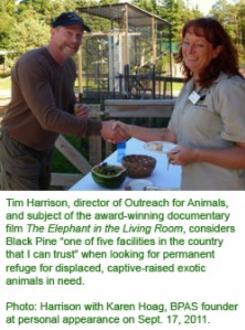 Just under an hour northwest of Fort Wayne is one of the best places in the country to visit if you're an animal lover. Nestled on 18 acres of hills and pine forest is Black Pine Animal Sanctuary in Albion, Ind. Black Pine is home to almost one-hundred displaced exotic animals. It's not a zoo and doesn't operate as one. Think of it as a forever home for rescued animals. In their own words, "We do not buy, sell, trade, or breed animals, or use them for commercial gain." Black Pine takes in and gives refuge to captive-raised animals that were not meant to be privately-owned domestic pets.
"Are you a zoo?" It  is one of the most frequently asked questions of Black Pine. Here is their answer: What makes Black Pine different from a zoo is that the animals that reside here were not acquired for exhibition or breeding. Our residents are not allowed or encouraged to multiply, and we do not seek them out to enhance the "visitor experience."  Most of our residents were born and raised in captivity either as pets or performers.  In many cases the animals have experienced intimate relationships with their human caregivers, which enables visitors to Black Pine to observe them more intimately than most zoo animals.  Most of our residents would not be accepted by zoos because they cannot participate in breeding programs due to lack of records proving the quality of their genetics; or zoos simply do not want or "need" them so will not accept them.  In many cases, Black Pine is an animal's "last chance."  Our animal residents all have names and personal histories that our staff enjoy sharing with visitors to help inform and influence responsible pet ownership and conservation.  The animals enjoy relationships with the staff who care for them and will almost always come up close to see who is visiting.  We will never allow any interaction with potentially dangerous animals, or do anything that would expand the exotic pet trade.  Our knowledgeable, caring volunteer staff are always on hand to answer visitor questions.  We also offer staff-guided tours each day of our regular summer season as well as field trips by appointment.  We strive to provide excellent animal care above and beyond all else.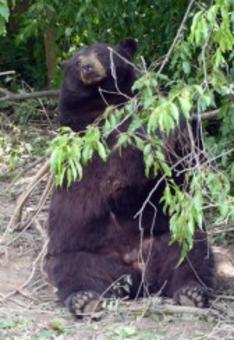 One of the coolest things about Black Pine is its educational program. My daughter was able to attend one of the Kids Camps last summer, and she was begging to go again this year as soon as she got home! The camps are for kids ages 3-12 and are  half-day sessions. At only $15 each, they are well worth the money, especially when you know it's going towards the care of the animals. Speaking of the animals, here's what you can expect to see on your visit:
North American Black Bears
Foxes (Arctic, Gray and Silver)
Grey/Timber Wolves
Primates (Baboons, Chimpanzees and others)
Birds (Ostriches, Emus and others)
Cats (Lions, Tigers, Leopards, Cougars, Bobcats, Servals and others)
Reptiles (Pythons, Alligators, Tortoises and others)
Others, including donkeys, fallow deer and Pot-Bellied Pigs)
Black Pine does not have regular daily hours, so it's important to check out their calendar before you plan your visit. Saturday, May 3rd is opening day. General Visitation offers the option of touring at your leisure and is available on Saturdays and Sundays only in May, September and October, as well as weekdays from Memorial Day through Labor Day. General Visitation ends at 3:00p.m daily.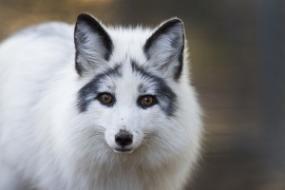 Other options include:

Sanctuary Tours- These guided tours last approximately 90 minutes and are offered Saturdays and Sundays in May, September and October beginning at 11:00 a.m.  They are also offered weekdays from Memorial Day through Labor Day at 11:00 a.m. and again at 3:00 p.m.

Feeding Tours- These tours last approximately 90 minutes, and can go up to two hours, and are offered ONLY on Saturdays and Sundays from May through October beginning promptly at 3:00 p.m.  This exclusive tour is the only option for visitors after 3:00 p.m.

Private Tours- These tours, offered by appointment only, are available between November and May and are for ages 10 and up only, due to 'behind the scenes' content included in this exclusive, in-depth tour.

Group Tours- Summer youth groups, families, companies, and other groups wishing to visit are encouraged to call our office to discuss options.

Field Trips- Field trip programs are intended for area schools and other traditional educational institutions seeking to satisfy various Indiana Academic Standards requirements.  These programs are generally available by appointment during late April, May, September and October, weather and staff permitting. For more details such as pricing and availability, please contact Black Pine directly.

Black Pine Animal Sanctuary 1426 W. 300 N. P.O. Box 02 Albion, IN 46701 (260) 636-7383