Looking to do a little Black Friday shopping this year? Me too!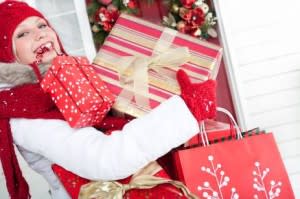 Many of Fort Wayne's retail giants are anchored around our two biggest malls: Glenbrook Square and Jefferson Pointe. As you plan your route, be sure to consider a few of my Black Friday tips:
On Thanksgiving day figure out what stores you want to go to and check online or in the newspaper to find out when the store opens on Black Friday so you can develop a planned time for each store.
Make a shopping list of the items you are planning to buy.
Wake up as early as you can. First come first served!
Once you figure out where you're going, "like" those retailers on Facebook, follow them on Twitter, or sign up for their email lists to get last-minute deals. Stores will often send you extra coupons or advance notice of future sales, especially if you're a frequent customer.
Find friends or family to come along so when you are in the store one person can look for a certain item while someone else looks for another.
Wear several layers of clothes, you may have to stand outside of a store before it opens or if there are long lines.
Bring something to keep you entertained in the long lines, such as a hand held Scrabble game.
Be aware, don't get so wrapped up in the chaos of shopping that you make yourself vulnerable to thieves.
Remember how much you are willing to spend before you even leave so you don't charge more than you can afford. Bring ad clippings or online print offs to ensure that you are getting the right price for what your buying.
End your shopping trip with a nice lunch or snack with friends and talk about all the neat items you bought!
Let me know if you have any other tips of your own, and have fun!