Are you a recreational biker looking for new trails to explore?  Fort Wayne's biking trails offer cyclists fun and fitness while exploring the city.
With a network of more than 120 miles of multiuse trails, Fort Wayne's growing trail system provides bikers with numerous choices for cycling along rivers and green spaces.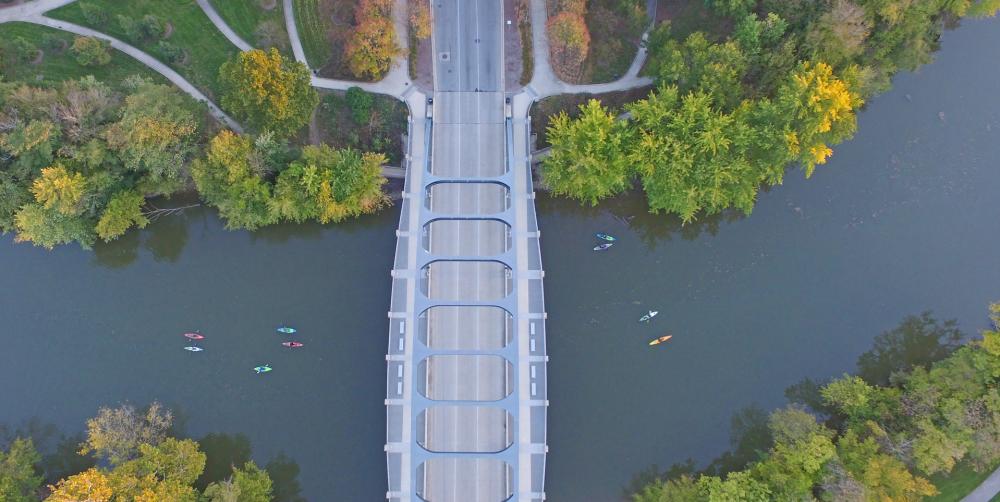 Fort Wayne's Trail Network
The Rivergreenway
Fort Wayne's popular Rivergreenway offers extraordinary biking on trails throughout the city, providing a 25-mile long system through Fort Wayne and New Haven, IN. Snaking alongside the rivers, including the St. Joseph, St. Marys, and Maumee Rivers, the Rivergreenway offers scenic views and outstanding vistas of historic neighborhoods.
Although most of the Rivergreenway provides paved trails, a few sections of the trail are connected by roads and offer bikers the chance to ride through neighborhoods and on city streets. The Rivergreenway connects 15 city parks and offers bikers beautiful natural views of the city. It also protects natural spaces within the city by offering cyclists safe transportation options while biking Fort Wayne.
The Rivergreenway is open 6 AM to 11 PM.  Check out the Rivergreenway trail map to plan your next cycling adventure.
Towpath Trail
The Towpath Trail's official name is the Wabash and Erie Canal Towpath Trail, because it follows the historic transportation route of the former canal.
This 5.5-mile trail begins at Rockhill Park, west of downtown, and ends at Lutheran Hospital. With beautiful views of Eagle Marsh Nature Preserve and scenic marshlands, the Towpath Trail connects the Rivergreenway trail and the Aboite Trail for more riding options. Towpath Trail Map
Aboite Trails
The Aboite Trails provide 18 miles of trail access in southwest Fort Wayne, connecting the Towpath Trail and leading to Indian Trails Park. This hilly section of trail offers users the chance to bike past suburban neighborhoods and scenic fields on the city's southwest side. Aboite Trails Map

Salomon Farm Loop
This 1.65-mile loop is located at Salomon Farm Park and is the heaviest used trail in the system, averaging 550 people a day. Located by the Parkview YMCA on the north side of Fort Wayne, the Solomon Farm Loop connects to the Pufferbelly Trail on the east side of the park. Salomon Farm Loop Map
Pufferbelly Trail
Two sections of the Pufferbelly Trail have been constructed: 4.6 miles from Washington Center Rd. north to Life Bridge Church and 1.9 miles from Lawton Park north to Lima Rd. and Ice Way. Additional sections of this trail will be complete in 2020 and 2021, eventually extending 13 miles from the northern edge of Allen County south to connect with the Rivergreenway downtown. This trail is unique, as it's one part of a State Visionary Trail which, upon completion, will stretch 80 miles and run Pokagon State Park in Angola to Ouabache State Park in Bluffton. Pufferbelly Trail Map
Franke Park Trails
Looking for dirt biking paths that offer a mountain biking experience? The Franke Park Trails are just for you. These 10 challenging miles of single-track trails are designed for mountain biking, running, or walking and present fitness enthusiasts with an off-road experience in the heart of the city. Franke Park Trails Map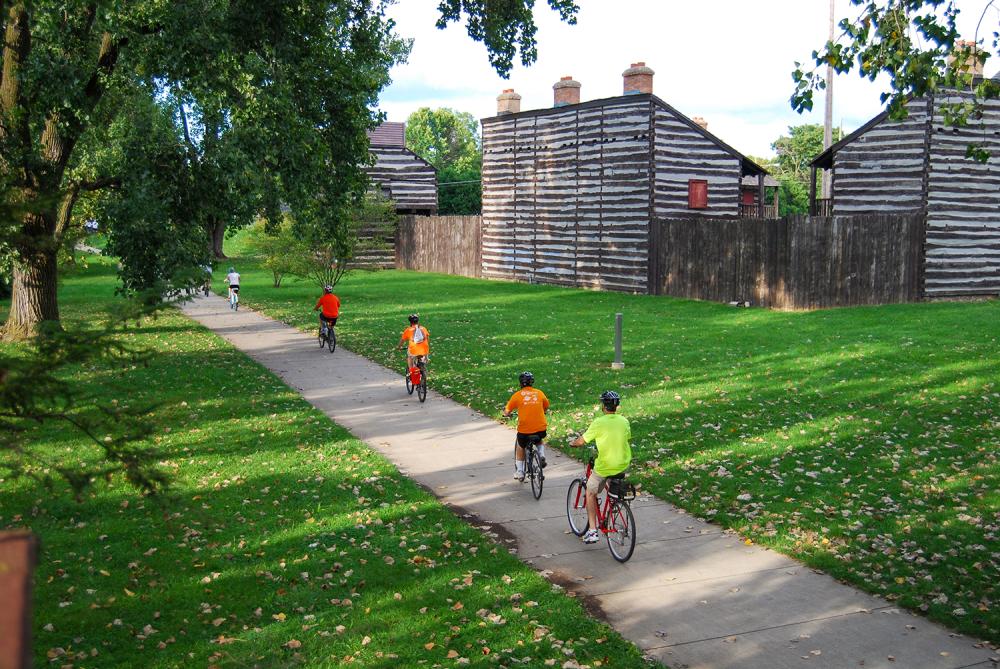 Trail Itineraries
Not sure where to start? Check out some of the fun bike trail itineraries we've created! These itineraries feature different stops along the way, including splash pads, sweet treats, and more—perfect for your next family bike ride.
With all these biking trails available for free, there is no excuse not to enjoy a scenic bike ride in Fort Wayne.  Plus, plans are underway to expand the trail system so that even more people can bike the trails.
This post was originally published in September 2015 and has been updated.