Big Bad Voodoo Daddy is one of the most popular touring swing bands on the road today and will be featured at the Embassy and the Fort Wayne Philharmonic on May 5 at 8:00 pm!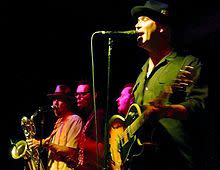 Their high energy show boasts a full roundup of horns, guitars, keyboards and Zoot-suiting fun!

The band has been performing since 1993 and has become known for their irresistible live shows and as a standout act among the numerous bands that launched the nineties swing revival.

Big Bad Voodoo Daddy appeared in the 1999 Superbowl half-time show, and most recently have appeared on Dancing with the Stars and the Tonight Show with Jay Leno.

They will be performing many of their chart topping hits, including Go Daddy-O, You & Me & the Bottle Makes Three Tonight (Baby), Big Bad Voodoo Daddy brings new life to the sound, the feel and the fun of great swing music.

For more information call 260-481-0777.