Waffles aren't just any regular dish. They are dressed for the occasion and ready to rock your world. Find a waffle for every meal that doesn't disappoint in Fort Wayne, Indiana. If you're looking to enjoy one for your early morning, there are plenty of options. On the other hand, if you're seeking a waffle intake for brunch, lunch, or dinner, your wishes have been answered.
Waffles are one of those dishes that are acceptable for any meal of the day, so don't feel like you just have to regulate the magnificently piled waffles just for breakfast. Your creativity is up to your palette, and Fort Wayne is just the right spot to allow for your tastes to go wander.
Let's talk waffles.
Waffles for Breakfast, Lunch, and Dinner in Fort Wayne, Indiana
Spyro's
A breakfast favorite in Fort Wayne, Spyro's has various waffles that will grab your attention. The Hungryman Waffle is a beast of its own but really defines delicious.
Along with the other great selections at this Fort Wayne eatery, the portions are wonderful and the quality that is delivered within the food is excellent. Looking for a ham or corn pecan waffle? Spyro's has it. You name the waffle, and they probably make it! This restaurant has been a top choice in my list of breakfast stops, and its dedication to waffles really confirms that.
6455 W Jefferson Blvd, Fort Wayne, IN 46804
Monday – Saturday 6 a.m. – 3 p.m., Sunday 7 a.m. – 3 p.m.
Hideout 125
Up your brunch and dinner plans with Chicken and Waffles from Hideout 125. A presentation that is stellar, this plate is definitely one for the books. You'll experience country fried chicken breasts that are accompanied by a spicy garlic chili glaze and unagi sauce. I measure this one with two thumbs up and think that you're in for a fantastic meal whenever you walk through the doors at Hideout 125.
10350 Coldwater Rd. Fort Wayne, IN 46825
Monday – Thursday 11 a.m. – 10 p.m., Friday and Saturday 11 a.m. – 11 p.m.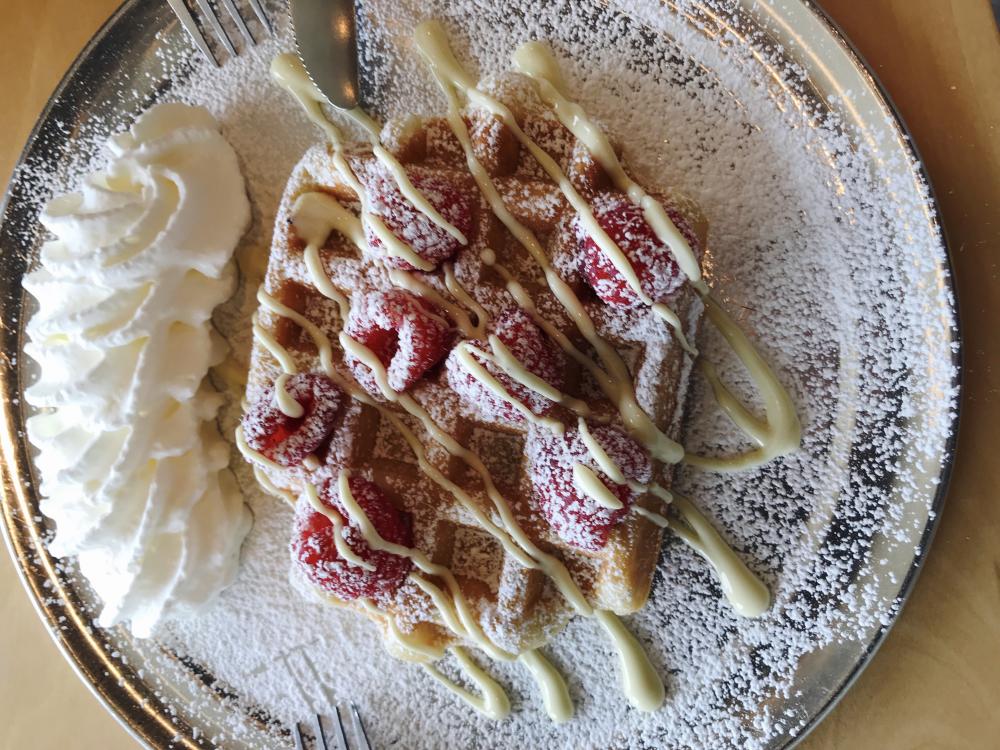 United Coffee
An enchanting European experience, United Coffee delivers a whole new style to the Fort Wayne area with their Italian espresso and Liege waffles. With products imported directly from Europe, you are getting a taste that is unparalleled. Waffles are decorated marvelously and taste even better. It's important to check this place out during your next breakfast or lunch outing. It's simply wonderful.
6447 W Jefferson Blvd, Fort Wayne, IN 46804
Thursday and Friday 7 a.m. – 6 p.m., Saturday 8 a.m. – 6 p.m., Monday 8 a.m. – 4 p.m., Tuesday and Wednesday 7 a.m. – 6 p.m.
Sara's Family Restaurant
Sara's Family Restaurant is a patriotic establishment with deep passions for one great breakfast, lunch, or dinner. Especially their waffle options. Find various types of waffles across their menu including their delicious Belgian Waffle or Chicken & Waffle choices. I highly recommend making an addition of fruit toppings for your waffles.
5792 Coventry Lane • Fort Wayne, IN 46804
Monday - Wednesday 7 a.m. - 8 p.m., Thursday - Saturday 7 a.m. - 8:30 p.m., Sunday 8 a.m. - 7:30 p.m. 
The Bluebird
If you're thinking about browsing a wide variety of amazing waffles, The Bluebird is chirping. Take a glimpse at their menu, as you'll find corn, Belgian, multi-grain, and many more types of waffles. This place is the place for a waffle lover and one who might be feeling adventurous. The Bluebird makes you feel like home, and the hospitality that is delivered is truly wonderful.
4410 Bluffton Rd, Fort Wayne, IN 46809
Open Monday – Saturday 6 a.m. – 3 p.m. Sunday 7 a.m. – 3 p.m.
Solbird 
A newer treat are the Churro Waffles at Solbird Kitchen & Tap. check out their other items for brunch. 
1824 W Dupont Rd, Fort Wayne, IN 46818
Open Sunday for Brunch 11 a.m. – 3 p.m. and regular menu until 8 p.m. Tuesday – Thursday 11 a.m. – 10 p.m. Friday – 11 a.m. – 11 p.m. Closed Monday
Bambu has a beautiful, vegan, pandan waffle on its menu. Made with coconut milk and pandan extract, these waffles are similar to regular waffles but with a fun twist and slight differences in flavor!   
8812 Coldwater Rd, Fort Wayne, IN 46825
Sunday 12 p.m. - 7 p.m., Monday/Wednesday/Thursday 12:30 p.m. - 7 p.m., Friday 12:30 p.m. - 8 p.m., Saturday 12 p.m. - 8 p.m.
Closed Tuesdays