Birthday parties can be a hassle, so why not let one of Fort Wayne's entertainment venues take away the worry of planning and leave your kids with a great time - and great memories!
Fort Wayne offers many unique locations to host your party, including the SportONE/Parkview Icehouse and Fieldhouse, Crazy Pinz, or Painting Fun Spot.
These unique party locations add a fun twist to any birthday, and in most cases the venue IS the entertainment!

Read our insider suggestions below, and check out these previous two posts that listed other excellent options: Take 1, and Take 2!
Best Place to Host a Birthday Party in Fort Wayne, Indiana
In Fort Wayne, there are many locations where you can host your party. Parties can be held at the normal large locations like restaurants, or you can also host your party at unique locations like the SportONE/Parkview Icehouse or Fieldhouse, Crazy Pinz, or at Painting Fun Spot.
The unique party locations in town add a fun twist to any birthday, and in most cases, the venue is the entertainment! You are sure to have a great party and be the talk of your friends when you plan a party at any of these locations!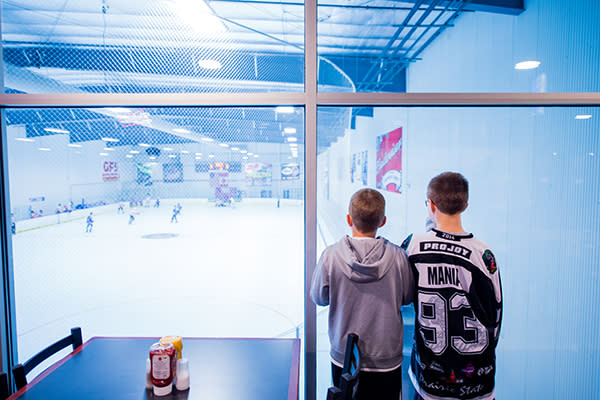 SportONE Parkview Icehouse
A party at the Icehouse lets you have an awesome skating party and/or bounce party. The Icehouse offers two birthday package options. The Penguin Package for 12 or fewer people or the Polar Package for 13-24 people. With each package, guests can go skating, which includes rental skates, and/or bounce around in Bounce Mania located inside the Icehouse. This is a great option for the hockey enthusiasts or for those that want something different than a typical party. If you have a little hockey player in the making, consider their Little Hockey Player package where you can receive a mini hockey lesson! Cost: $199 for up to 13 guests or $269 for 14-24 guests.
For more information on the details of the packages, check out the Icehouse website.
If you are looking for more of a relaxed birthday, consider enjoying the Icehouse public skate, Fridays 8:00 pm to 10:00 pm, and Saturdays and Sundays 1:00 pm - 3:00 pm. Admission is just $8.00 (children under 4 are free), with skate rentals for $3.00 each. Also, Bounce Mania is open Tuesday, Thursday, Saturday and Sunday 1:00 pm to 3:00 pm.
SportONE Parkview Fieldhouse
For those with an aversion to skating, there is also the option of having your party at the Fieldhouse. For a birthday party at the Fieldhouse, they have a package that allows you to bring your decorations and a choice of dessert and that's it! With the birthday package, you receive free water and popcorn, paper and utensils, one court to play a variety of sports and a designated party area. For the sports enthusiasts, you have the option to play basketball, volleyball (indoor and beach when the weather cooperates), indoor soccer, dodgeball, pickleball, or kickball. With all of these options, you are sure to find a sport that interests most guests! Cost: $140-$180 depending on the package you choose.
For more information on the details of the package, check out the Fieldhouse website.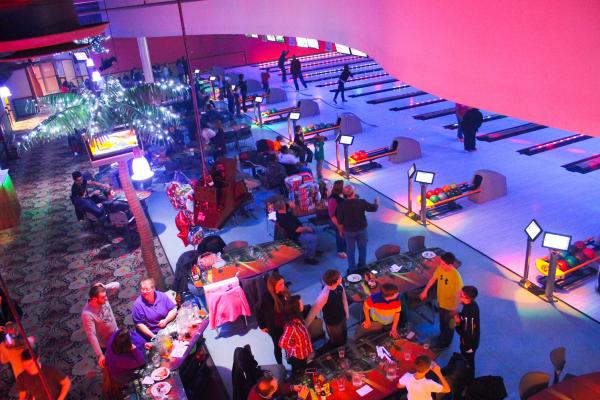 Crazy Pinz
Another great venue option for a fantastic party is at Crazy Pinz, where you can go bowling and play a round of mini-golf! If you want to have a party at Crazy Pinz you have the option of choosing from 3 party packages that range from a bowling party to the ultimate party. All packages include a party area, a birthday hostess, a soda for each guest, and money for arcade games! At Crazy Pinz, there are endless opportunities for fun with their: bowling lanes, laser tag facility, bumper cars, mini-golf course, and a water park of foam balls! Cost: $11.95-14.95 per party guest. Ages 3+ up.
For more information on the details of the party packages, check out the Crazy Pinz website.
Painting Fun Spot
For another option, consider having your party at Painting Fun Spot in their Private Party room. Here your guests can enjoy painting and dessert. The party room comfortably seats 20 painters, and for an additional fee you can have a Dedicated Party Host that will be there to assist with painting and clean up! Painting Fun Spot has a special deal with Great American Cookies, so you can get a deep discount on dessert and drinks! Desserts and drinks are allowed in the private room, but if you are considering having your party at Painting Fun Spot make sure you check their party guidelines on what you can and cannot bring. Just make sure you reserve the Private room to have a guaranteed painting spot! Cost: $30 for up to two hours for 20 guests, and an additional $20 for a designated party host.
For more information check out Painting Fun Spot's website.
T.A.G. Art Company
Lastly, you can make magical memories at the T.A.G. Art Company's fun farm, which features a storybook world set on 25 acres. Party settings include the alien spaceship, "The Little Old Lady's" shoe, and the Fun Farm castle. With each playhouse having at least 100 square feet of usable space, and additional space is available outside of the playhouse for tents! 
T.A.G art can also bring the fun to your event with balloon art, face painting, and costumed characters.
Learn more at www.tagartcompany.com/fun-farm

Let the celebrations begin!