If you're a music lover like me, the first thing you wonder whenever you go somewhere is "Where can I catch a live show?"
Fort Wayne is home to a handful of quality venues that host both local and regional/national musicians and bands. A little rock and roll, some garage rock, psychedelic rock, b;country, bluegrass, rap--no matter what your interests are, whenever you come to Fort Wayne, you're going to have a plethora of options on a daily basis. 
Live Music in Fort Wayne, Indiana
Whenever you visit, be sure to check out the shows at the following venues: 
The B-Side is undoubtedly one of the most unique and fun spaces you can catch a show in the area. It's a little tricky to find, since it's actually located in the offices of the boutique creative agency One Lucky Guitar.
Incredibly talented musicians sign the door and rave about the overall atmosphere and experience of both enjoying a show there and performing in the space. A much more intimate venue, it seats roughly 75 people for any performance, and it's an all-ages venue (yay!).
This is by far my favorite place to go for a show. This local favorite dive bar sees all kinds of musical acts pretty much every night.
The Rail brings all kinds of musicians and bands though always paired with a local, and you might even catch comedy there too. Also, Wayne Coyne hung out at The Brass Rail after Middle Waves in 2016, so it's like... extra cool. (Fun Fact: The Brass Rail is the #1 seller of Pabst Blue Ribbon in Indiana--and yes, this is a bar, making it a 21+ venue).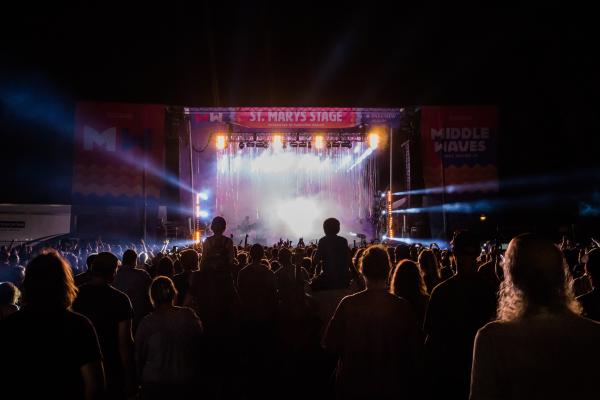 Also, be on the lookout for tickets for 2018 Middle Waves Music Festival for local and national performances over two days (September 14 and 15)! You can even get a deal on a hotel. 
In the back of Calhoun Soups, Salads, and Spirits (a bar commonly referred to by locals as CS3) lives and breathes The Tiger Room (yes, you read me correctly). You can catch some local music there, and a lot more comedy, too. CS3 is 21+, but all ages are welcome inside The Tiger Room. 
Columbia Street West is located in the historic district known as "The Landing." On weeknights, you can catch an acoustic set at Columbia Street West (nicknamed "C-Street") by local talent. On weekends, this bar either hosts dj's or bands--be prepared to dance for that! 
New to the Fort Wayne music scene is the Clyde Theatre. Opening in the Spring of 2018, the historic Clyde Theatre has undergone renovations to become a concert venue destination in Fort Wayne. Grab your tickets for performances by national touring acts including Granger Smith and Fitz and the Tantrums.
If jazz or something a little funky is more your thing, you can probably get into what happens at Nick's. Music, cocktails, and food--what more could you ask for? 
Another local dive bar with a colorful exterior, Skeletunes also gets some cool musical acts through their doors accompanied by our local talent. You could also check out their neighbor, Pedal City, who gets some musical acts occasionally! 
There are a ton more places depending on what your tastes are--this is just the tip of the ice berg!
The way I see it is, no matter what your musical tastes are, you're going to appreciate all of these venues for their diversity and the amazing experiences they offer.