Your sweet tooth is at home in Fort Wayne, Indiana. From cookies to cupcakes, Fort Wayne has all of the baked goods to satisfy your sweet tooth. Some of the best-baked goods, often overlooked, has to be the muffins. You'll find them plenty of baked good shops, but some of the best can be found at coffee shops.
The art of a muffin is important. Sweetness and consistency of the muffin are two factors that I typically focus on. What you pair the muffin with, can also make a big difference. Tasting Fort Wayne's greatest muffins really is a delicious lane filled with a variety of flavor combinations.
Whether you have specific preferences that include gluten-free or vegan muffins, many of Fort Wayne's scrumptious eateries have these for their muffin selections.
Prepare your palette for some of Fort Wayne's best muffins.

The Best Muffins in Fort Wayne, Indiana
Zinnia's Bakehouse 
If it is adorable, then it must be Zinnia's Bakehouse with their sweet personality and even sweeter baked good!
Their raspberry chocolate chip seems to be "the one." The fruit in this muffin helps pull everything together, and helps keep this muffin from drying out! Other muffin flavors include zucchini and chai. I'd highly recommend pairing one of their muffins with a tea. 
Recently, Zinnia's made a new move to downtown Fort Wayne. Find them inside of Cottage Flowers near Citizens Square: 236 E Wayne St, Fort Wayne, IN 46802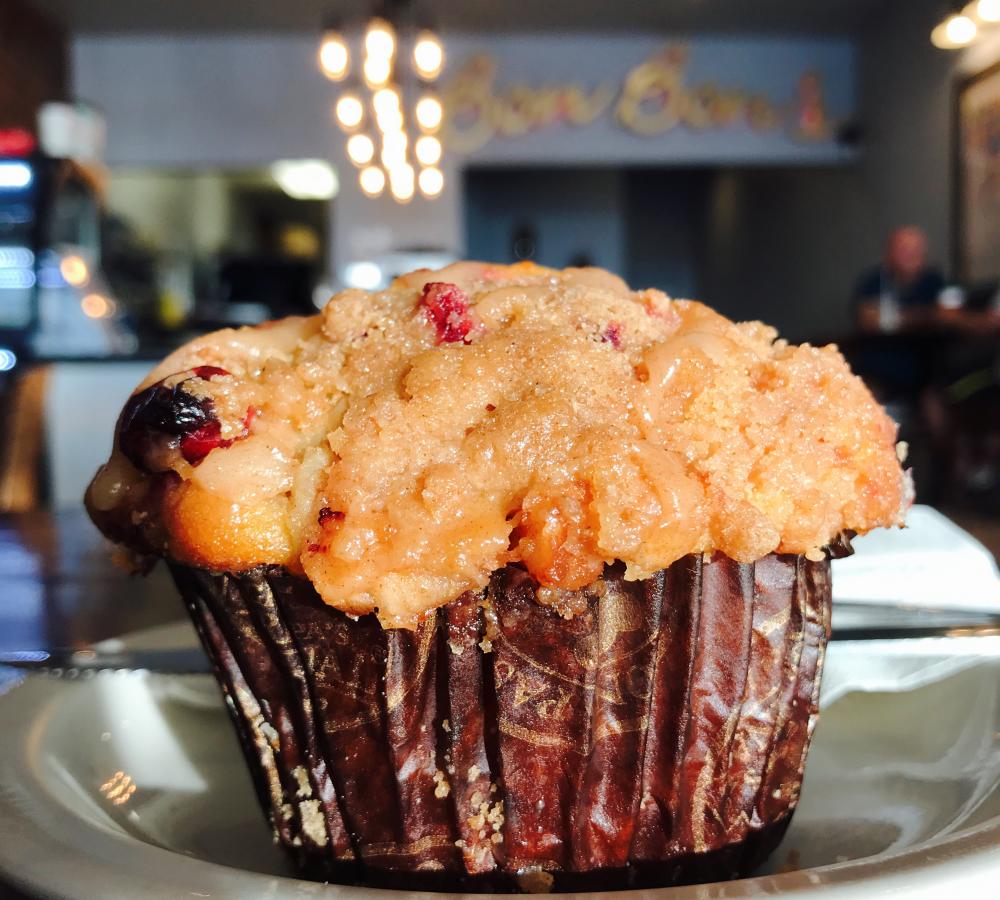 Bon Bon's Coffee Company 
Ah, Bon Bon's. A common favorite for those Fort Wayne coffee lovers. Bon Bon's has a handful of location across Fort Wayne, and they deliver all of their tasty selections with a friendly smile!
The baked goods will typically rotate with special features, so there's always something interesting going on. For their muffins, they are gigantic! Not to mention, incredibly appetizing. Between you and friend, they are shareable. Their cranberry apple flavor definitely takes the cake here. With a little bit of a warm-up and a tea (from their wonderful menu of teas), you'll already be planning your next visit.
Take a visit to one of their select locations but definitely stop in, relax, and experience:
5712 Maplecrest Road, Fort Wayne, IN 46835
7952 W. Jefferson Boulevard, 2101, Fort Wayne, IN 46804
East Coliseum Boulevard, Fort Wayne, IN 46835
Rise 'n Roll Bakery  
The best baked goods can be found at Rise 'n Roll Bakery, hands down. Since the inception of this bakery, locals have gone crazy for their baked goods. With influences from Amish style baking, they have developed many options beyond just their doughnut base.
Their muffins are quite a hit! Some of their delicious options for muffins are blueberry, lemon raspberry, and double chocolate. Did I get your attention? Good, I highly recommend checking out their muffins and accompany one with their amazing coffee.
With locations around Fort Wayne, there are many good spots. Check them out:
5129 Illinois Rd #101, Fort Wayne, IN 46804
511 E Dupont Rd, Fort Wayne, IN 46825