*Update - Check out our 2017 List Here!*
It's a Christmas tradition to discover all of the beautifully decorated Christmas Light Displays around Fort Wayne! From holiday fanatics that dress up their houses in thousands of lights to the beautiful downtown window decorations and displays, there are many places to take a fun holiday drive! If you're looking to do the same, and enjoy the Christmas spirit, take advantage of our annual list of Crazy Christmas Houses.
Simply visit this page on your mobile device and use Google Maps to route yourself around Fort Wayne!
Downtown
Start out your tour of Fort Wayne's great Christmas light displays, at the epicenter in downtown Fort Wayne with the Santa and his reindeer display on the PNC Building at Main and Berry. Then hit the Merry Christmas Wreath at the Indiana Michigan Power building. Oh, and don't forget about the sky bridge above Calhoun St or Aunt Millie's Northern lights on Pearl Street. Plus, if you have time, take a wander downtown and enjoy all of the beautiful window displays, which you can vote on at this link.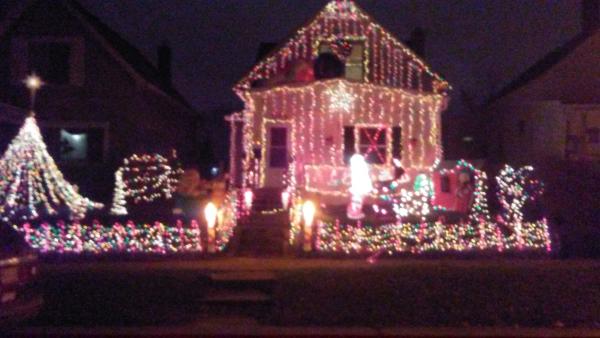 East
1. 1144 Wabash Avenue
Twas the month before Christmas and all through the yard, not a creature was stirring except Santa cooking hard. The reindeer waited patiently for their fresh cooked treat, Mrs. Claus, not so much, she's ready to eat! The snowman is chilling every minute of the day. With soldiers guarding the house and 42,200 lights lighting the way, Santa takes a bath watching the music cued light in prep for his soon to be very long flight.
These lights will be on display dusk until 10:00 pm Sunday- Thursday, and dusk to 11:00 pm Friday and Saturday. Special thanks to Ed Heinkel.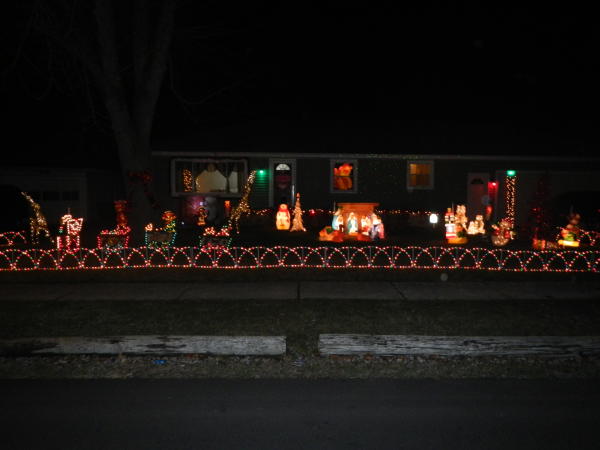 2. 5606 Werling Drive
Special thanks to Gladys and Stve Davies for submitting!


3. 1828 S. Tyland Blvd. New Haven, IN 46774
Expect to see around 30,000 lights. Plus, make sure you see all four sides of this decorated house. These lights will be on display from 5:00 pm-1:00 am, and 5:00 am-8:00 am through January 3. Special thanks to Mary and Joseph Fortman.
4. 1934 Bear Paw Dr.
Special thanks to Deb Kessler for submitting!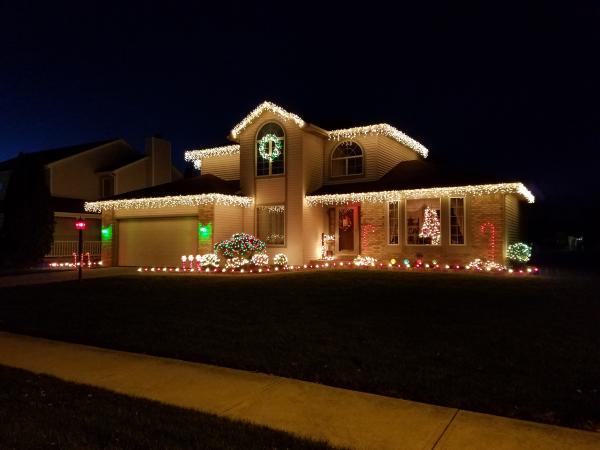 5. 7527 Scarlet Court
Thanks to Mr. & Mrs. Claus for submitting!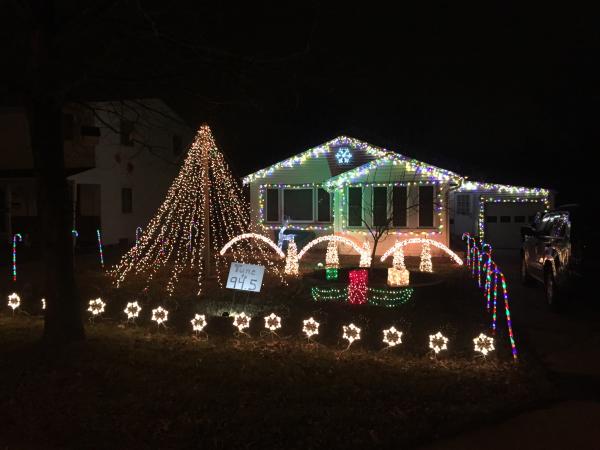 6. 2714 Nordholme Avenue
Thanks to Notta Scrooge for submitting! :)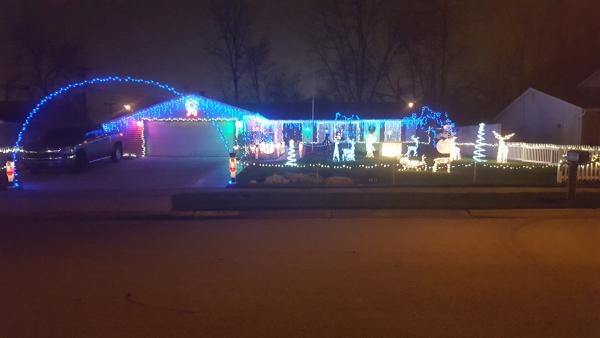 7. 4831 Timberland Drive
Speical thanks to Emily Salisbury and Bonnie Lafever for submitting!
8. 4801 Forest Grove Drive
Special thanks to Chuck Wyss for submitting!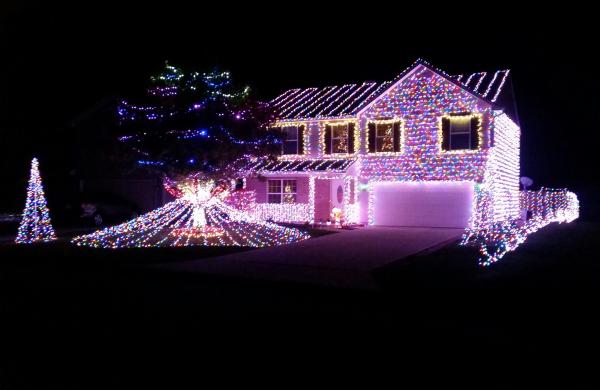 9. 9314 Monique Drive
Expect to see 17,000 LED lights. Special thanks to Ryan Dirschell.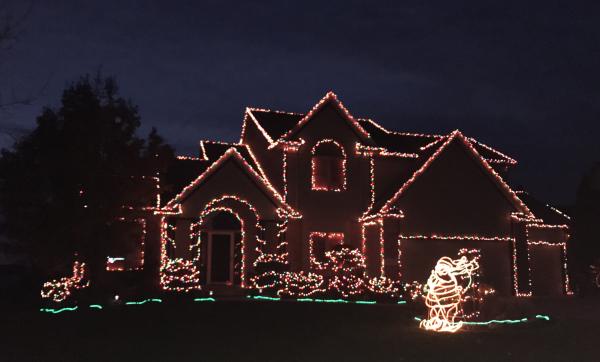 10. 14715 Pioneer Creek Ct
Special thanks to Jim Hannie for submitting!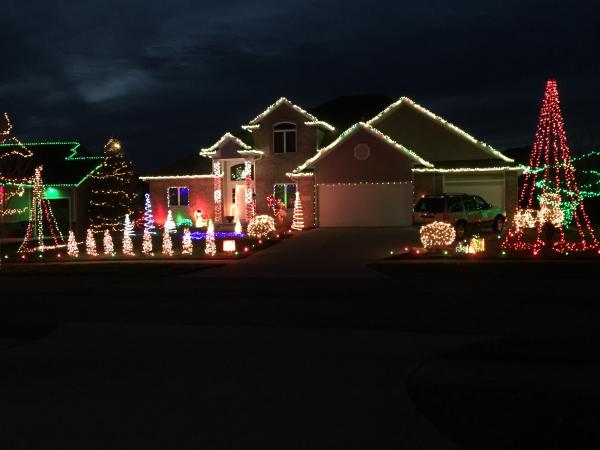 11. 12215 Bufflehead Run
Special thanks to Joshua Robison for submitting!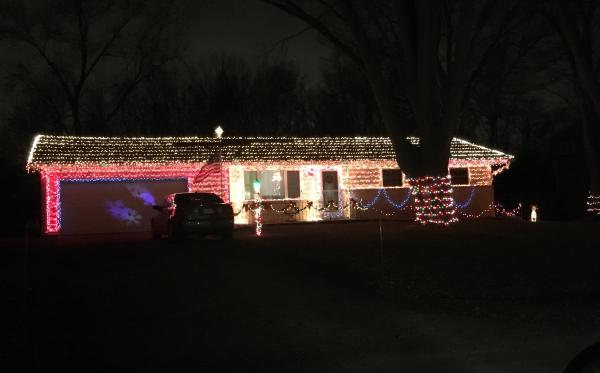 12. 4728 Willow Brook Drive
Special thanks to Holly Fox for submitting!
13. 4030 Shannon Drive
Special thanks to Scott & Patty Moseley for submitting!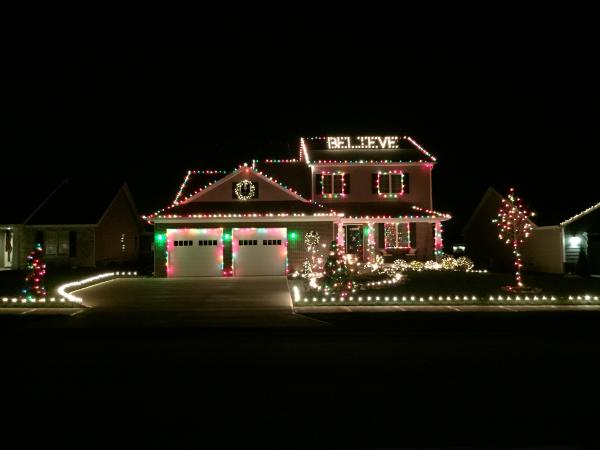 14. 7911 Canonero Lane
Special thanks to Chris Roberts.
Northwest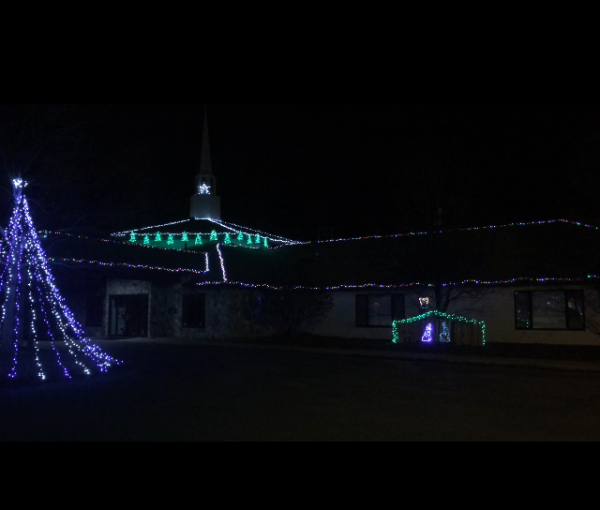 15. 10707 Coldwater Road
Enjoy over 14,000 lights and be sure to tune your radio to 107.7 for a special show. Special thanks to the Jacob's Well Church and Adam Gaines for submitting.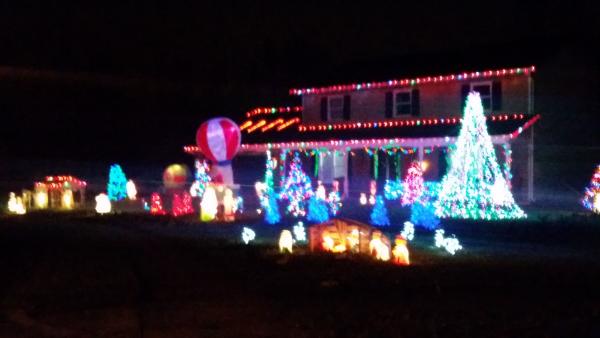 16.  11405 Wayfair Place
Special thanks to Matt and Brooke Booher for submitting!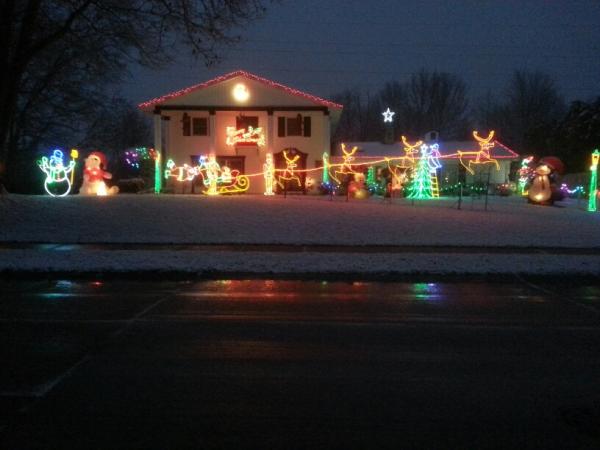 17. 11314 Kings Crossing 

Expect to enjoy a full size animated LED-lit displays.Highlights include Santa chasing after his sleigh and reindeer as they take off without him. Special thanks to David Brown.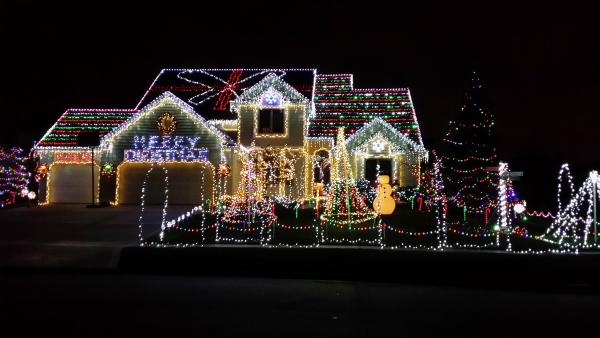 18. 1618 Crooked Creek Pkwy

Expect to see 35,000 lights, a timed musical display. This display is even viewable from Union Chapel. Special thanks to Jason Grossnickle.

19. 15509 Golden Eagle Nest
Special thanks to Anna Allison for submitting!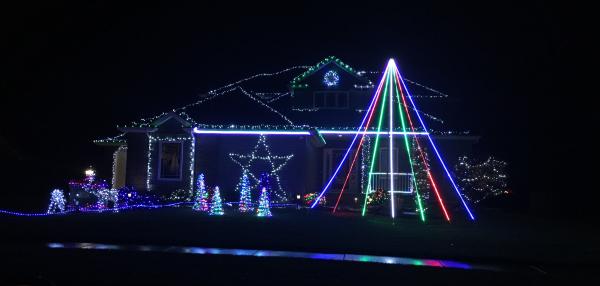 20. 1312 Monte Carlo Drive

Enjoy some beautiful lights timed to music at this display, which will be bigger and better than last year's! Don't forget to tune into 88.1 FM! Special thanks to Beth and Ron Clemens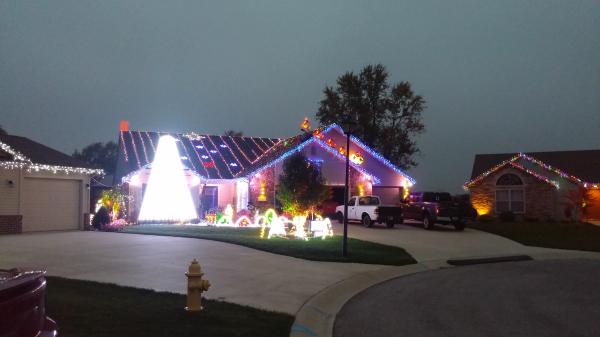 21. 13329 Delano Cove
Expect to see 13 classic 50,000 LED lights, a 17 1/2 ft tall tree, and much more. Enjoy this show with songs from 6:00-9:00 pm weekdays, 5:30-11:00 pm weekends (Friday, Saturday, and Sunday), and 5:00 pm-12:00 am Christmas Eve.
The 2 neighboring houses will also be a part of the show, and don't forget to tune your radio to 88.5. If you wish, a box will be out front so you can also drop off letters for a veteran on an Honor Flight. Thank you, Jason and Jodie Pearson, and special thanks to Jeff McKnight and David McKnight.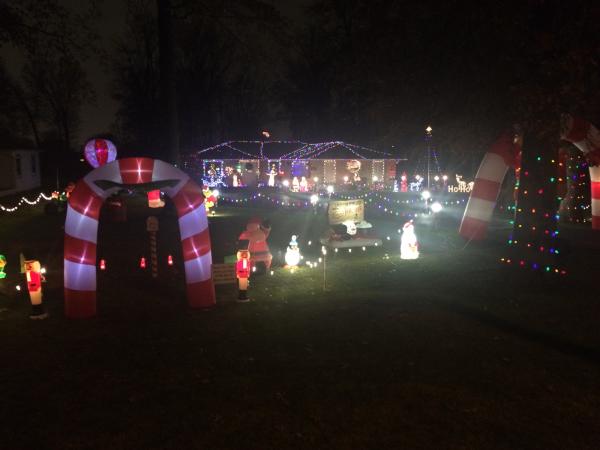 22. 1127 W Ludwig Road
Enjoy seeing more than 9,000 lights, blow-up displays, and more. Plus, tune your radio to 97.7 to enjoy the light dance set to music. If you have little ones, make sure to bring a letter to Santa with your return address. Special thanks to TJ and Joan Smith.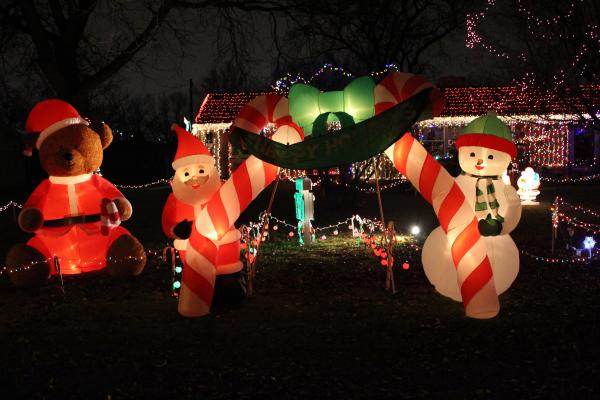 23. 721 Pelham Drive
At this display, you can even drop off letters to Santa. Just make sure it is self-addressed and includes a stamp. Special thanks to Matt and Jody Ellenwood.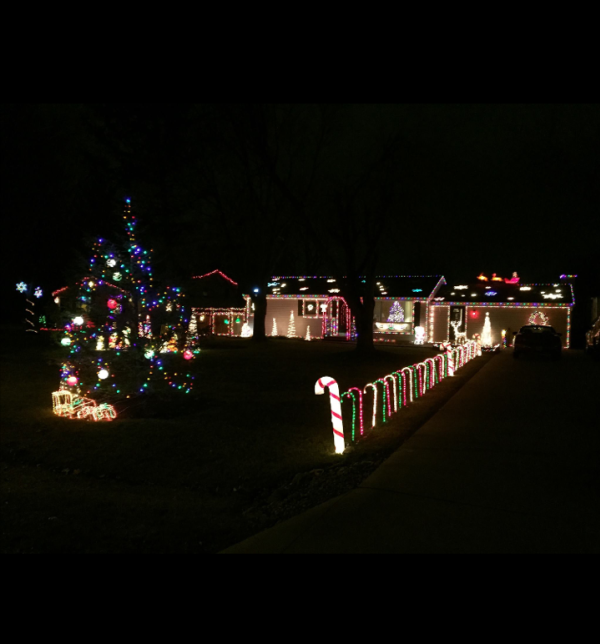 24. 4015 Kentland Avenue
Special thanks to Doug Mounsey.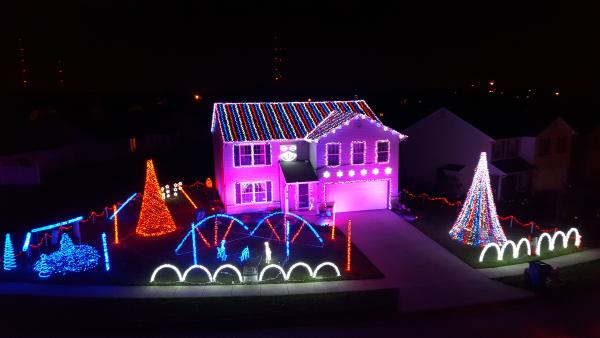 Southwest
25. 1818 Morgan Creek Drive
In addition to the beautiful display, this house will be accepting donations of winter coats and sock to give to the less fortunate. Plus, weather pending, there might be some hot chocolate and candy canes.
Special thanks to Mr. and Mrs. Kurt Girardot.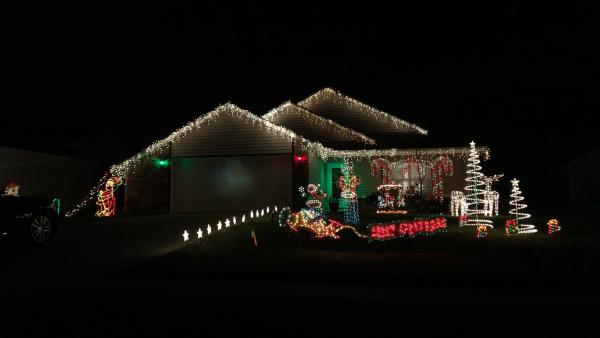 26. 2259 Rosalind Court
Special thanks to Amy Miller for submitting!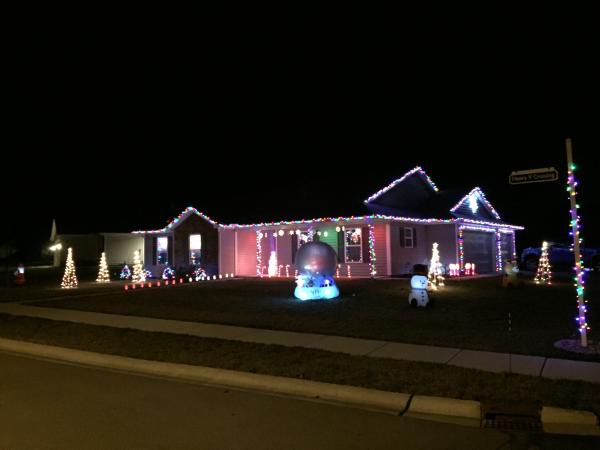 27. 2108 Henry V Crossing
Special thanks to Corey Lee for submitting!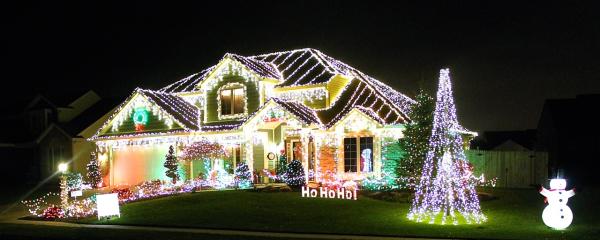 28. 1116 Almdale Drive
If you'd like to send a letter to Santa, this house has a mailbox that Santa checks. Just leave a self-addressed, stamped envelope with your letter, and Santa will be sure to write back.
Special thanks to Mide Bedwell for submitting!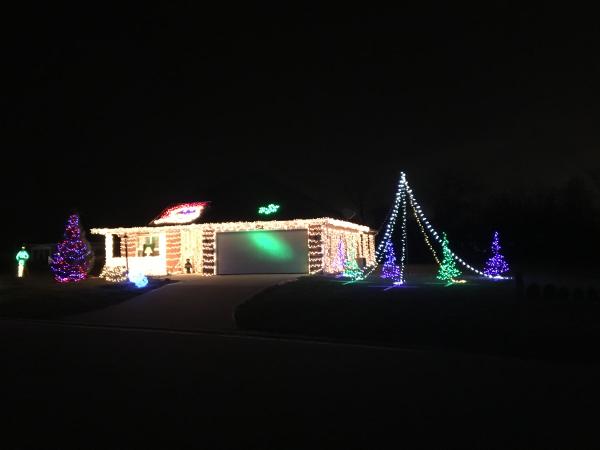 29. 422 Union Station Drive
Special thanks to Michael Hunsche for submitting!
30. 13525 Plumbago Court
Enjoy a fun tribute to the Cubs, and make sure to bring some canned goods to donate to the Community Harvest Food Bank. Last year, this house donated over 250 lbs. of food.
This show will run from 5:15 - 11:30 pm every night! Special thanks to Missy Girardot.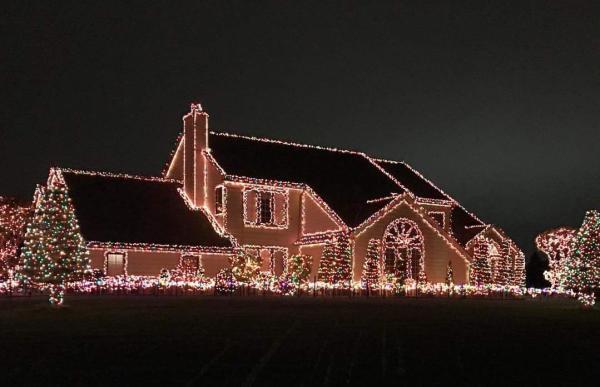 31. 2828 Emerald Lake Drive
Special thanks to Lashonda Mazock for submitting!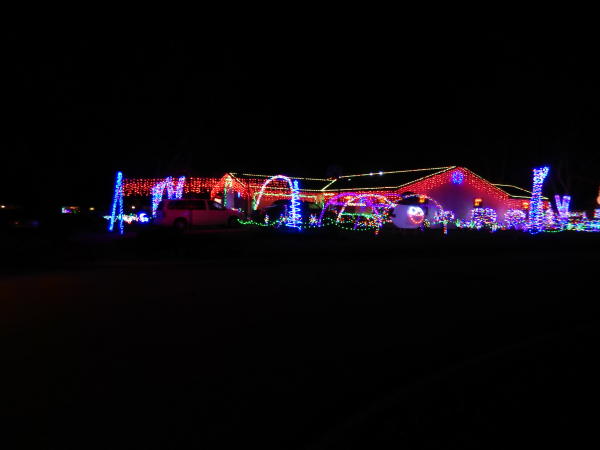 32. 3902 Chancery Place
Special thanks to Brian Potts.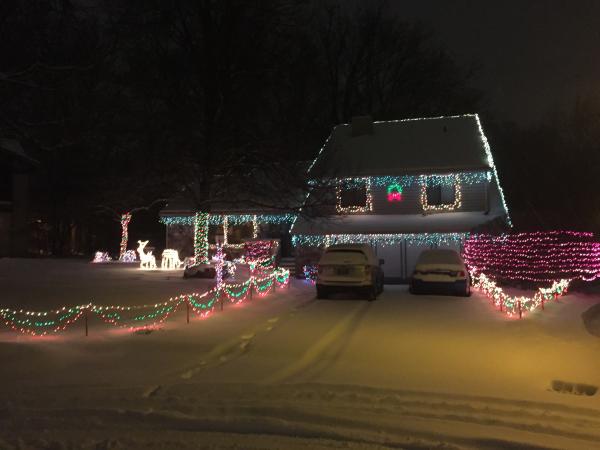 33. 4808 Orchard Green Place
Special thanks to Mike Robinson for submitting!
Additional Displays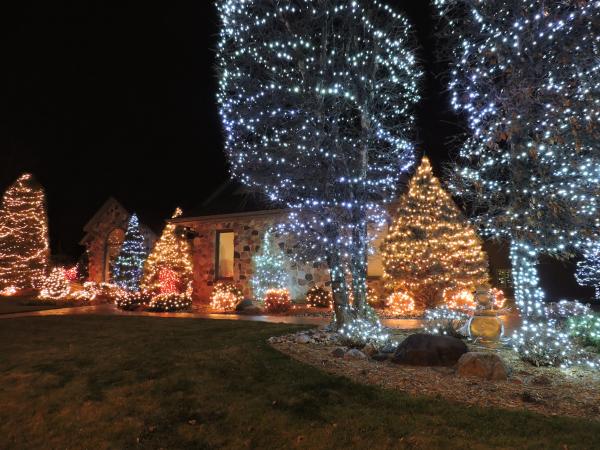 1211 Willowind Trail - Special thanks to Carrol Lepper for submitting!
Another beautiful spot is driving through the Fantasy of Lights at Franke Park! Or even walking around Jefferson Pointe, and the beautiful Botanical Conservatory's exhibit of the Twelve Days of Christmas.
---
We realize this still isn't all of the beautiful Christmas Light Displays, so if your house or you know of a house that should be added to our list, please fill out this form and we will add them the list!
*Special thanks to Heather S. who has helped us start this great tradition!
---
Host Them Here
If you're hosting friends and families during the holidays, check out these useful tools that Host Them Here provides to Fort Wayne residents!