Update: Check out our 2017 List here.
A favorite family tradition is to drive around in the evening taking in all the houses trimmed with twinkling Christmas lights. Some holiday fanatics take the lights to a new level complete with dancing lights and talking faces timed to music. If you're looking to get into the Christmas spirit, look no further than our annual list of Crazy Christmas Houses. Simply visit this page on your mobile device and use Google Maps to route yourself around town.
If you are unable to view the map, please follow this link.
South
NEW St. Louis Avenue - This Waynedale home lights up the whole block with more than 25,000 LED lights covering the property.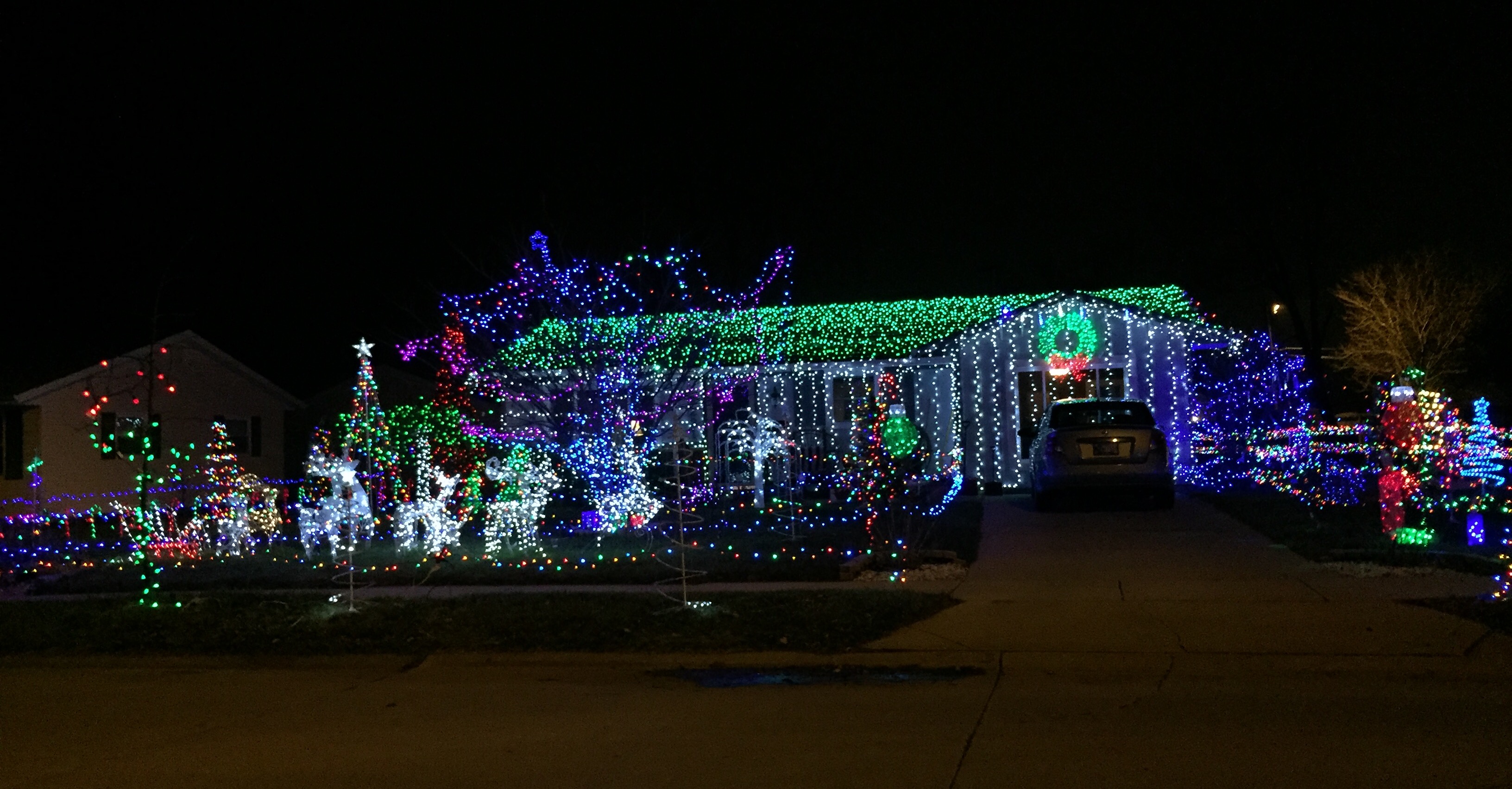 NEW 4940 S. Harrison - This house features 38,000 lights, 87 decorations and three giant inflatables, which are all synchronized to 20 different songs. 
Southwest
NEW Corner of Chancery Place and Willow Grove Drive - Using the corner to their advantage, this h

ouse has decorations that wrap around the side and back.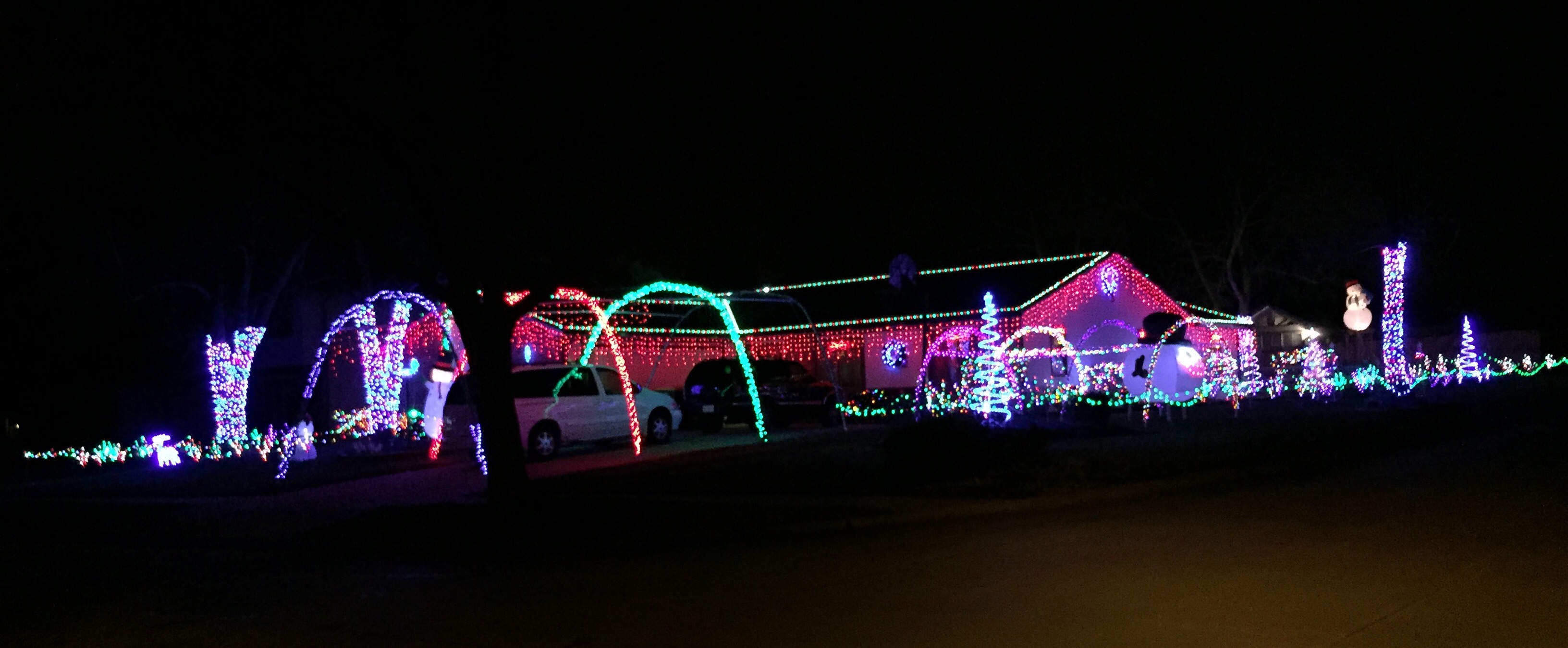 2828 Emerald Lake Drive (Emerald Lakes addition) - Known to many as "Santa's House," this stop features over 70,000 lights that are found on the house, in trees and in the yard. Most nights, you will find Santa Claus sitting outside in a rocking chair on his driveway. You are encouraged to park and get out with your kids so they can visit Santa.
1116 Almdale in Sycamore Lakes- This home is drenched in classic white lights. The glow can be seen from Scott Road but is really worth seeing up close. 
Plumbago Court in Vera Cruz - Once featuring an infamous IU basketball play, this home is an LED light extravaganza timed to music. New this year is a large, graphic Christmas tree and the opportunity to leave donations in support of Community Harvest Food Bank.
1818 Morgan Creek off Bass Road - This family gets into the holiday spirit with their lighting display and occasional hot chocolate distribution. 
Northwest
4015 Kentland Avenue - This is the address for one of several homes on the corner of Kentland and Louisedale that go all out with Christmas cheer. 
NEW 721 Pelham Drive - This well-decorated home has a mailbox that says "Letters to Santa." Legend is that if a child leaves a self addressed stamped envelope, they will get a letter back from Santa. (Note: please use your discretion for personal safety.)

While you're here, make sure you check out the houses on Orlando Drive.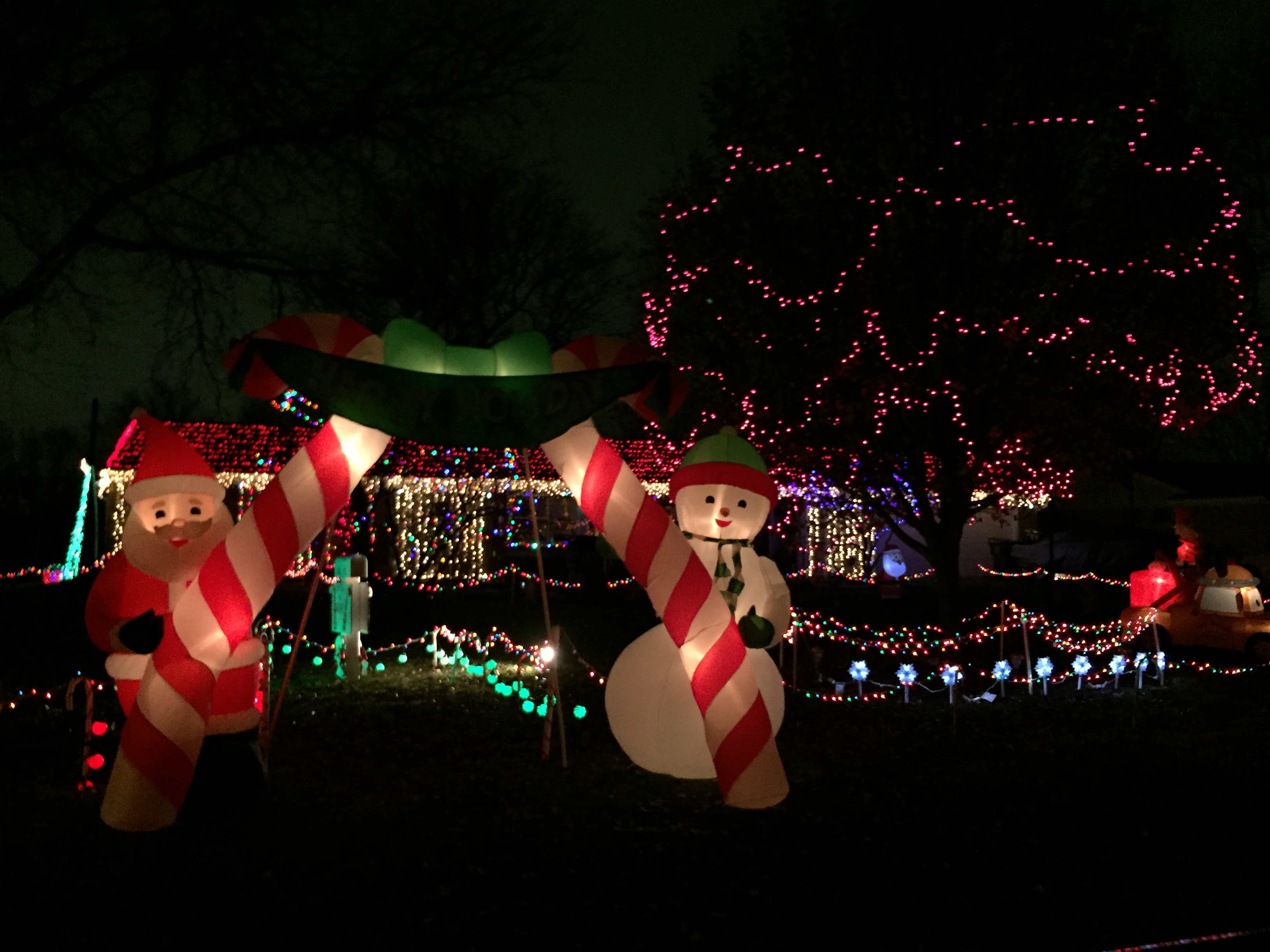 Corner of Traders Crossing & Traders Parkway - Two neighbors combined lights make this a must-see in Pine Valley.
NEW 1312 Monte Carlo Drive, Huntertown, IN - Tune in and turn up your radio to hear the music that makes the lights dance.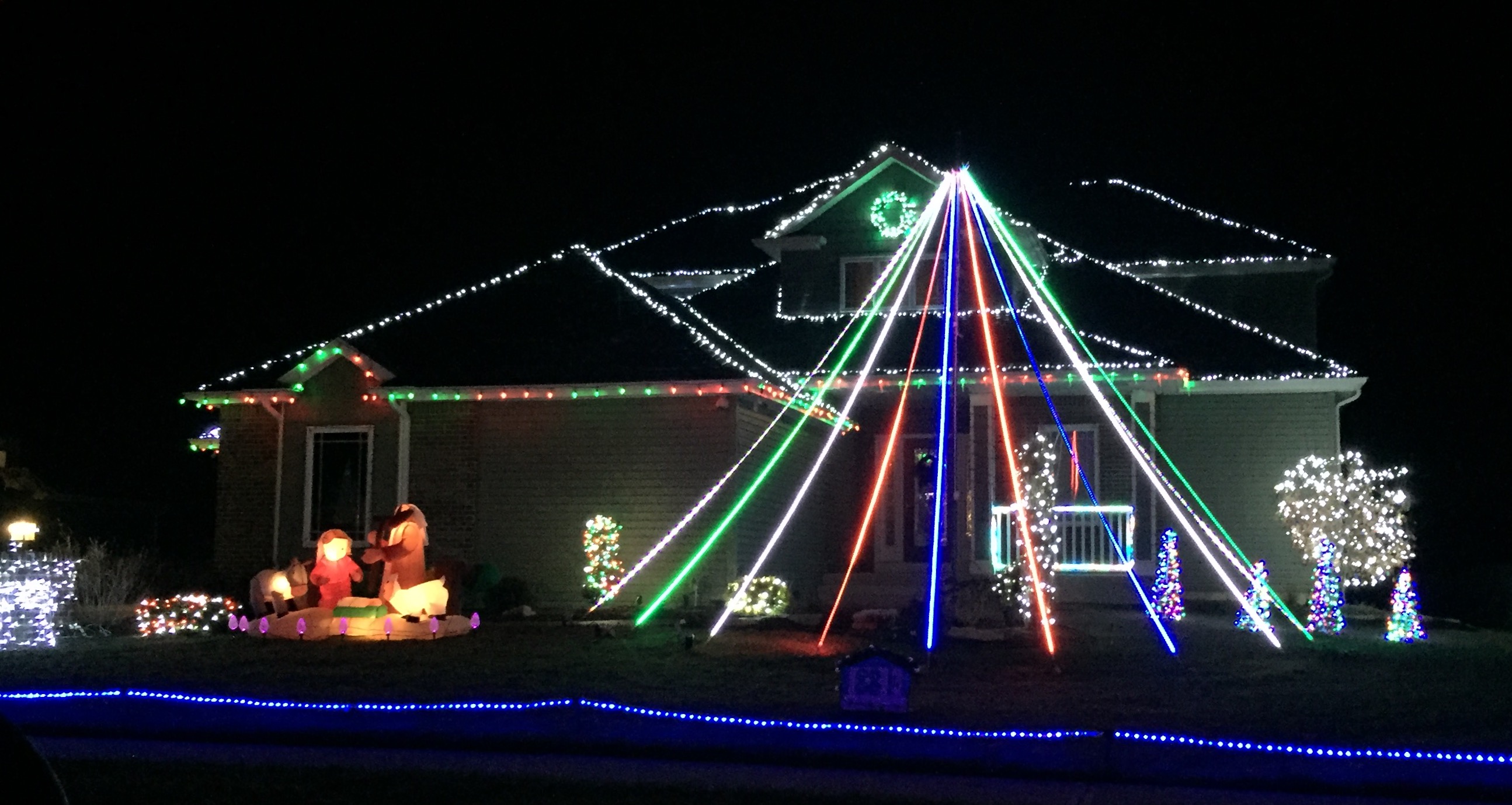 NEW 13329 Delano Cove - A unique stop, this is three homes lit and timed to one playlist. Tune your radio to 88.5.
1618 Crooked Creek Parkway - Quiet the car and roll your windows down to hear the Christmas music orchestrating the dancing lights.
Bufflehead Run - Be sure to tune your radio to the station indicated to hear the music. This display is up (verified 2015) but not always on.
Northeast
1904 Pebble Creek - The peppermint striped roof is visible from Maplecrest Rd near I-469. The entire neighborhood has great, classic decorations for you to enjoy as you wind your way back to this stop.
NEW 9314 Monique Drive - You can't miss this home's display as you drive down Wheelock Road. Be sure to turn in to see the full display.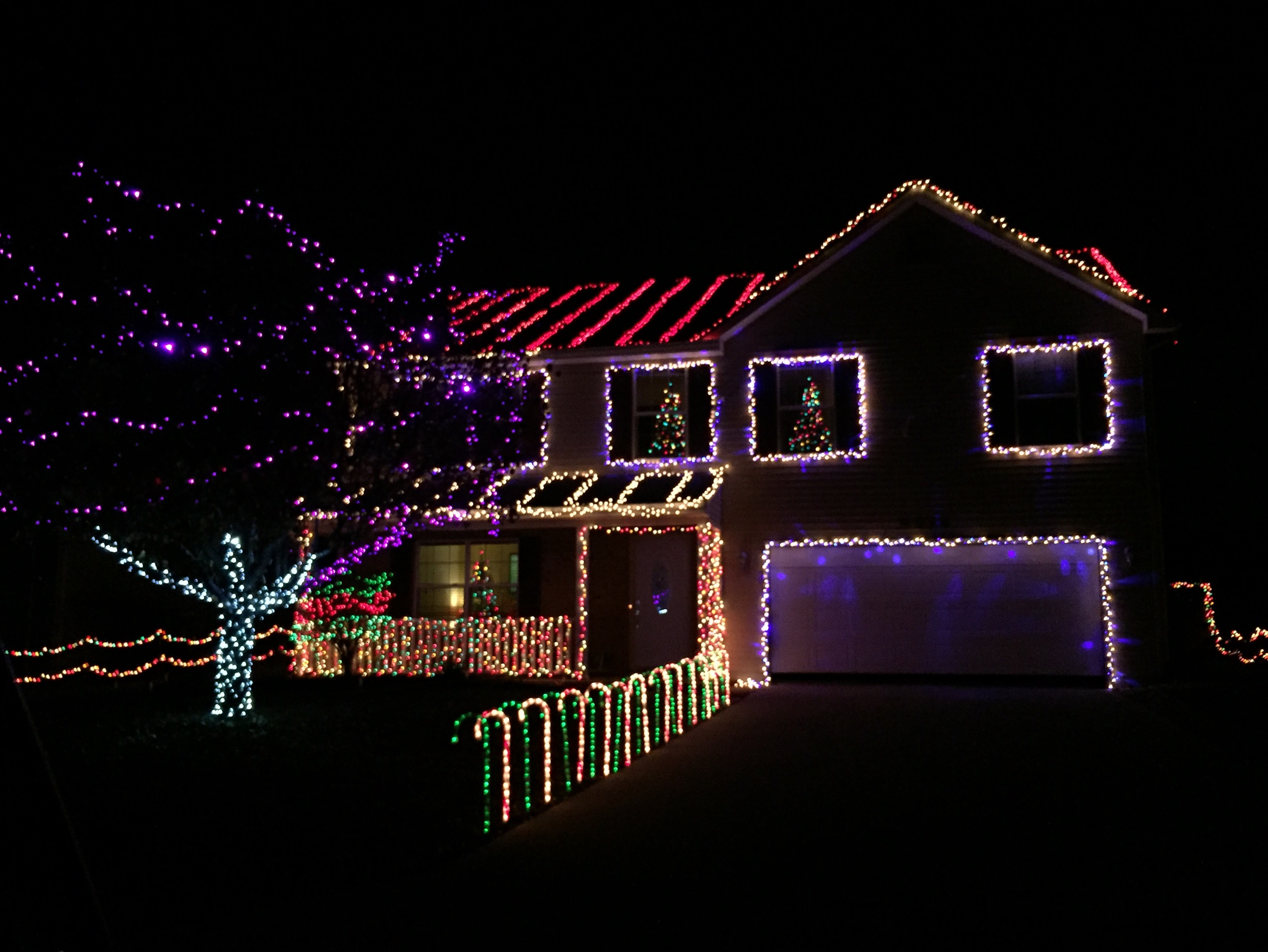 Neighboring Communities
NEW HAVEN - 1828 South Tyland - Over 30,000 lights cover all four sides of this house and both sides of the roof! A unique feature of this home is that the owners have the lights on at night and in the morning. Using timers, they take advantage of daylight savings and turn the lights back on from 5-8 am each morning now through January 2nd. 
AUBURN - 1504 Duesenburg Drive, Auburn, IN 46706 (www.TothChristmas.com)
FREMONT - In Blackmen Prairie on the west end of the addition
Another beautiful spot is a drive through Franke Park for the Fantasy of Lights; it's back this year supporting Blue Jacket! Even Jefferson Pointe is lit up for the season. Be sure to check out their towering tree, which is synchronized to Christmas music. Or if you're at the Botanical Conservatory, check out their lights on the terrace.
Finally, don't forget the Christmas light displays in the heart of downtown. Stop by the big Santa on the PNC building at Main and Berry, and then hit the Merry Christmas Wreath at the Indiana Michigan Power building. Be sure not to miss the light display on the sky bridge above Calhoun St. or Aunt Millie's Northern lights on Pearl Street. This year's downtown holiday decor features many window displays which you can vote on at this link.
No matter where you go in Fort Wayne, you are sure to get a dose of the Christmas Spirit!
If you're hosting friends and families during the holidays, check out these useful tools that Host Them Here porvides to Fort Wayne residents!
UPDATE: We've listened to your comments and are back with an update on Crazy Christmas houses. We realize this still isn't all of them, and they aren't included on the google map above, but here are a few of the houses that our readers have recommended:
11314 Kings Crossing in the Pine Valley neighborhood - Fort Wayne
The Christmas Cruise Thru in Hicksville, OH.
Take a drive down Sunny Lane off of Rothman Road - Fort Wayne
The houses on Ensley in Auburn - keep your eyes out for an over 50 ft tree that lights up and dances. - Auburn
Stony Brook Drive - house animated to music - Fort Wayne
Kensington Downs neighborhood at 7523 Scarlet Ct. - Fort Wayne
4801 Forest Grove Drive - Fort Wayne
The group of houses in front of the Hunters Pointe neighborhood - Fort Wayne
7911 Canonero Lane, Fort Wayne, IN 46825
Main Street in Churubusco next to McDonalds and the Magic Wand - Churubusco, IN
Mirando Dr in the Eldorado Hills neighborhood - Fort Wayne
1127 Ludwig Rd, Fort Wayne, IN 46825